Article successfully added.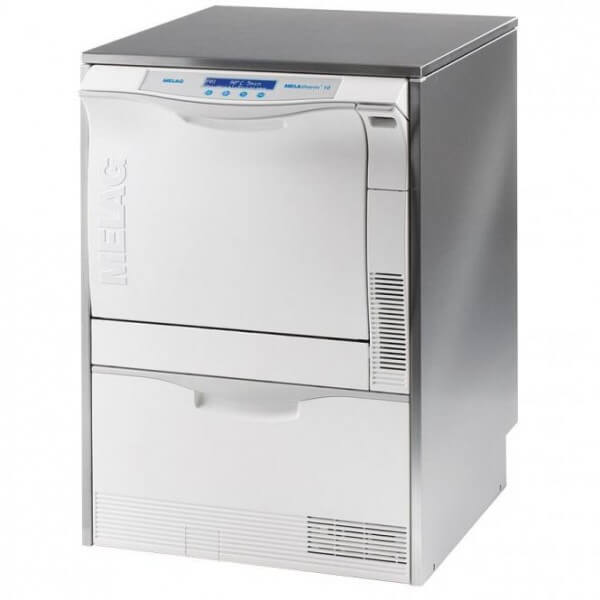 Order number: 114725
Packung: 1 Stück
Delivery 18 to 20 days
You will receive your goods between the 16.04.2019 and 18.04.2019
Melag MELAtherm 10
A few years ago the need for a systemic solution for the complete instrument preparation in one step arose. For this demand, the IDS 2009 introduces the cleaning- and disinfection-device (CDD) Melatherm.

Melatherm meets demands of many doctor and dental offices for a norm-conforming cleaning- and disinfection-device with optimized interior and exterior measurements, as well as the ease of operation known from an autoclave.
The washing-chamber of the Melatherm is conceived for offices that don't prepare large amounts of instruments, yet don't want to compromise on working times, preparation quality, cost-efficiency and environmental friendliness.

In the serially delivered base-frame, up to 6 wash- or strain-tubs, or a multitude of hand-instruments, can find space in special insert-baskets. Simultaneously, up to 11 instruments with hollow areas (i.e. cannulas, hoses, transmission instruments), can be hygienically cleaned and disinfected inside and out via the injector-rail.

Melatherm fits in existing cabinet-rows, without the need to create additional space for dosing devices, cleaning agents and/or drying-modules.

The active drying ensures long-range value-retention of high-quality instruments and protects them from corrosion. Furthermore, removal of the instruments through assistants after disinfection and cleaning requires absolute dryness as protection from re-contamination.

In the drawer below the washing-chamber, the processing-agents are kept in two 5-liter and one 1-liter container. An external dosing-module or a separate agent-cabinet is not needed.

Optionally available is a base-cabinet on which the Melatherm can be mounted. Thus, especially ergonomic operation and loading of the Melatherm is possible, additionally, the base cabinet offers storage space for containers (i.e. cleaners, neutralizing agent, etc.), as well as for Melatherm accessories.

With Melatherm all demands for routine operational testing and validation are quickly and cost-effectively realized, because Melatherm meets the strict requirements of the EN 15883 for cleaning- and disinfection-devices in all points.

The legally required documentation of the program-data occurs easily through the integrated port (RJ 45). This way data can be stored directly in the office network. Display of protocols can be handled with the documentation software Melaview or Melasoft.
Storing of the data on the Melaflash CF-Card is also possible. With the Melaflash Card-Reader the sterilization protocols can be read at any PC.

conforms to Europa-Norm EN 15883
short operation time, simple handling
with 4 programs and digital display with active drying
thermal disinfection at 93 °C with 10 min. effect
with integrated water-softener
power supply: 3N AC-400 Volt (9,3 KW)
documentation possible via network connection, PC or with integrated memory-card writer
with integrated dosing-module for liquid cleaners, neutralizer and rinsing agent. Dosing and fill-level are monitored electronically.

Technical data:


Bottom-Unit
Cabinet-Unit
Exterior measurements:
(W x H x D in cm)
60 x 82 x 68
60 x 124 x 68
Washing-Chamber:
(W x H x D in cm)
46,5 x 40,5 x 45
Weight
79 Kg
106 Kg
Power Supply
3 N AC 400 V, 50 Hz, 3x16
Max. Capacity
9,3kW
Further information