Article successfully added.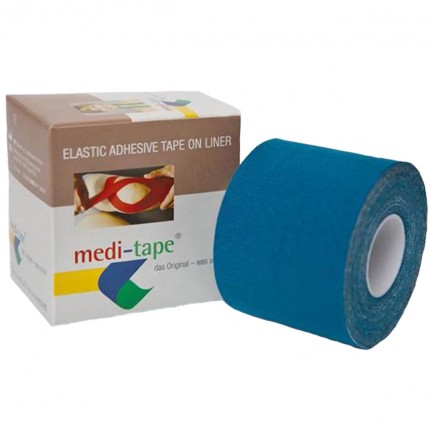 Order number: 303287.0
Package: 5 m
ready for shipment
You will receive your goods between the 22.09.2020 and 25.09.2020
Current information on the delivery situation:
Due to the tense situation caused by the Covid-19 eruption, there may be occasional delays in delivery. We have adjusted the capacities of our logistics accordingly, so that we can largely meet the indicated delivery dates.Medical facilities and doctors are supplied by us with priority. We do not supply resellers. Thank you for your understanding!
Medi-Tape
Das Medi-Tape wird für das Kinesio-Taping genutzt. Das Medi-Tape kann mehrere Wochen vom Patienten getragen werden, denn es verspricht hohen Tragekomfort. Dieser wird durch die hohe Elastizität und dem weichen Material aus Baumwolle garantiert. Zudem ist das Tape atmungsaktiv und wasserfest, sodass es auch unter Wasser getragen werden kann. Die Klebekraft des Tapes wird über die Körpertemperatur aktiviert und verstärkt. So erreicht das Medi-Tape eine hohe Klebkraft und passt sich dem Körper an.
Medi-Tape – Auf einen Blick
Für das Kinesio Taping
Material: Baumwolle mit hautfreundlicher Acyrlharz-Beschichtung
Elastizität von ca. 150 %
Hoher Tragekomfort
Frei von Latex und Arznei-Wirkstoffen
Atmungsaktiv und wasserfest
Passt sich den Körper an
Bei Bedarf zuschneidbar
Verwendbar für mehrere Wochen
Maße (B x L): 5 cm x 5 m
In verschiedenen Farben erhältlich
Lieferumfang
1 Medi-Tape à 5 m in der gewählten Farbe