Article successfully added.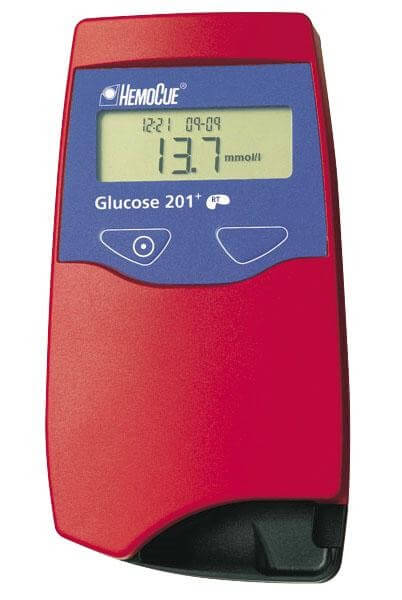 Delivery 18 to 20 days
You will receive your goods between the 17.04.2019 and 20.04.2019
Glucose 201 RT
HemoCue Glucose Systeme basieren auf der Glucose-Dehydrogenase Methode und bestehen aus einem kleinen, spezialisierten Analysegerät mit einer einzigartigen Einweg-Mikroküvette. Die Systeme bieten die Präzision und Genauigkeit eines Zentrallabors, können aber die Werte schnell und unmittelbar dort messen, wo sie benötigt werden.
präzise und laborgenaue Ergebnisse am Point-of-Care zur bestmöglichen Behand- lung des Patienten
Küvetten sind nicht kühlpflichtig
portables System für alle Bedürfnisseder professionellen Glucose-Messung
Vereinfachung von Handhabungsabläufen in vielen Anwendungsbereichen
keine Kalibrierung oder Geräte-einstellung erforderlich
Messbereiche: Plasma: 0 - 560 mg/dL oder Vollblut: 0 - 500 mg/dL
Maße: 85 x 160 x 43 mm
Probenvolumen: 5 µL
Glucose 201 RT PE = Plasmaäquivalent
Der Bruchteil eines Bluttropfens genügt, um mit den HemoCueGlucose Systemen in drei einfachen Schritten sofort und direkt vor Ort präzise Ergebnisse für die Diagnose und Kontrolle von Diabetes mellitus oder die Bestimmung des Glukosespiegels bei Neugeborenen zu erhalten.
Das HemoCue Glucose 201 RT System kombiniert Präzision und Genauigkeit einer Labormessung mit schneller Probenbestimmung und einfacher Handhabung. Der Analyzer im Taschenformat speichert bis zu 600 Ergebnisse und Qualitätskontrollmessungen mit Datum und Uhrzeit. Die gespeicherten Daten können direkt über einen externen Drucker ausgedruckt oder auf den PC übertragen werden.
Lieferumfang
1 Blutzuckermessgerät in der gewählten Ausführung
Further information