Article successfully added.
Roche
Accutrend Glucose
Test strips for glucose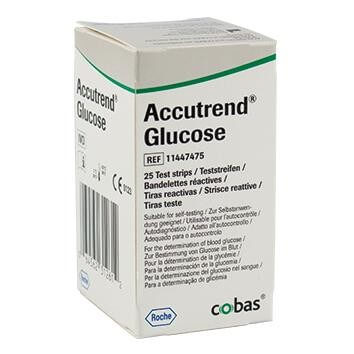 Order number: 183482
Packung: 25 Stück
ready for shipment
You will receive your goods between the 23.03.2019 and 25.03.2019
Accutrend Glucose
Blood sugar test strips for quantitative determination of blood sugar, for:

Accu-Chek Compact
Accu-Chek Compact Plus

The drum containing 17 integrated test strips now makes measuring blood sugar still faster and more convenient.

Very comfortable and easy to handle, safe when used and exact in its measured results, as confirmed by patients and training experts in an international user study.

With the test strips prepared automatically and the automatic coding, the entire measurement routine is substantially shortened. The user does not see the test strips.

necessary blood mass:1.5 microliters
capillary action technique
measurement range: mg/deciliter and mmol/liter: 10-600 mg/dl; 0,55-33,3 mmol/l, respectively
measurement technique: reflectometric !
package contents: 3 drums, each with 17 strips
package type: replaceable drum magazines
related items: Softclix lancettes, Accu Chek Compact
Product contents
:
test strips
control solution
Further information
Customer assessment ⦁ Accutrend Glucose