Article successfully added.
self-retracting measuring-tape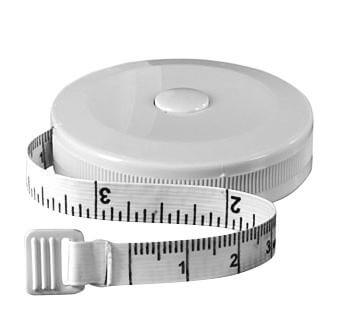 Order number: 100201.0
Package: 1 piece(s)
This item is not available
Measuring-Tape 1,5 m Length from Dr. No
Simple, practical measuring-tape for the (lab-coat/pants) pocket. Measures in centimeters and inches.
small and handy, fits in every pocket
units in millimeter/centimeter and inch/12.

Further information

Customer assessment ⦁ Measuring-Tape 1,5 m Length
-
Ich habe das Doccheck Maßband pünktlich und einwandfrei erhalten. Es ist ein selbstzurückspulendes Maßband, das ausgesprochen hilfreich ist, besonders zur Kopfumfangsmessung. Die...
-
Einfach, und erfüllt seinen Zweck, was will man mehr.
-
Für einen Studenten, der nicht ständig auf Station nach nem Maßband fragen will eine gute Lösung.
Das Band ist einfach und erfüllt seinen Zweck, und dazu klein und handlich. Ab und zu...
-
Leider sehr billig konstruiert und bei einer professionellen orthopädischen Untersuchung ist die Handhabung eher peinlich... Die untenstehenden Bewertungen kann ich überhaupt nicht...
-
Ich habe es verschenkt, da es nicht so aussieht wie auf der Bildbeilage; dachte eigentlich die Maßskala wäre schwarz bedruckt, was aber leider nicht der Fall war.
-
Robust und handlich, so dass es idealer Begleiter für den Klinikalltag ist, auch schon als Student mehr als nützlich. Unspektakuläres Design, aber dafür umso praktischer!
-
Die hevorragende Qualität überzeugt und im Gebrauch ist es einfach und praktisch handzuhaben. Es funktioniert ohne schwierigkeiten und lässt sich nach Gebrauch wieder einfach...
-
Dieses Maßband habe ich in der eigenen Praxis und nun auch für die Notfallpraxis angeschafft: Da leiert nichts aus, das Außenmaß ist kompakt, ganz im Gegensatz zu den Werbegeschenken der...
-
Sehr praktisch z.B. zur Verlaufsbeurteilung bei Thrombose. Eins der Accessoires welches jeder Arzt in der Kitteltasche haben sollte. Etwas laut beim Ausziehen, das ist vielleciht das...
-
Ohne viel Schnickschnack ein Maßband für die Kitteltasche. Natürlich aus Plastik, aber für den Preis ist es voll in Ordnung. Vom Knie bis zum adipösen Ranzen alles abgedeckt: insgesamt...
-
Sehr zweckmäßiges Maßband: ausreichend lange auch für adipöse Menschen, mit Rücksülfunktion und sehr klein, passt also auf jeden Fall in die Kitteltasche - und das alles zu einem fairen...
-
Gut. Erfüllt halt seinen Zweck. Klein genug für die Kitteltasche. Lang genug für den dicken Bauch. Rastefunktion und Rückspulfunktion funktionieren auch sehr gut.