Article successfully added.
HEINE
All-Spec Single-use ear tips
disposable tips for Heine mini 2000/3000, Beta 200 and K180 otoscopes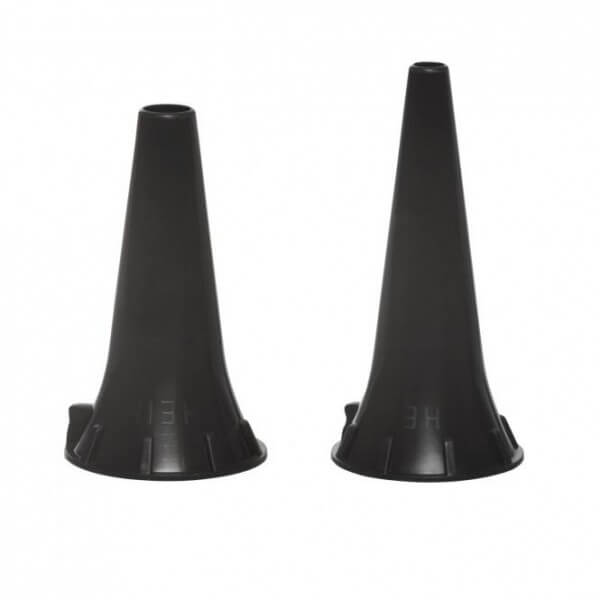 Order number: 110821
Package: 50 Stück
ready for shipment
You will receive your goods between the 23.08.2019 and 27.08.2019
All-Spec Single-use ear tips
HEINE All-Spec Einmal-Trichter sind als hygienische Trichter für das HEINE mini 3000, BETA 200/400 und K180 Otoskop geeignet. Die Einwegtrichter sind hygienisch verpackt, müssen nicht gereinigt werden und bewirken damit Zeitersparnis. Damit unterbinden die Einweg-Trichter Keimübertragungen und Kreuz-Kontamination zwischen Patienten. Einmaltrichter des Herstellers HEINE sind als Original-Ausführungen ideal auf HEINE Kopfstücken fixierbar.
Für HEINE mini 3000, mini 3000 F.O., BETA 200, BETA 400 und K 180 Otoskope passend
Zur einfachen Entnahme verpackt
Zeitersparnis durch Wegfall der Trichterreinigung
Verschiedene Durchmesser für Erwachsene und Kinder
Diverse Packungsgrößen zur Auswahl
Lieferumfang
1 Packung HEINE AllSpec Einmal-Trichter
Further information
Customer assessment ⦁ All-Spec Single-use ear tips
Die Ohrtrichter passen sehr gut. Ich wunderte mich nur, weil sie nur in Folie ohne Karton eingepackt waren. Einen Karton finde ich zum
Stapeln angenehmer. Aber bei dem geringen Preis...
Frank Andreas
-
26 Feb 2013
Die Ohrtrichter sind robust und stabil, kommen aber etwas lieblos verpackt daher. Sie passen auf das Heine Otoskop. Gut wäre zur besseren Beschreibung von Ohrtrichtern zu sprechen....
Frank Andreas
-
26 Feb 2013
Ich hatte in einer Bewertung bereits gelesen, dass die Ohrtrichter etwas lieblos verpackt geliefert werden. So war es auch hier, doch ist die Qualität der Trichter selbst gut. Sie sind...
Die Einweg-Tips passen perfekt auf mein Heine mini 3000, sind fast so stabil wie die wiederverwendbaren Tips. Die Tips sins aus dunkelgrauem Poliprolylen gefertigt. Sie sind ebenfalls...
Fünf Sterne, sehr gutes Preis-Leistungsverhältnis,gut verpackt und schnell geliefert. Passend für das Heine-Mini-Otoskop, bin sehr zufrieden. Danke- gerne wieder.
Funktioniert auch mit Welch Allyn Otoskop. Ansonsten keinerlei Probleme.

Die Ohrtips passen sehr gut auf das Heine mini Otoskop. Schnelle und zuverlässige Lieferung,kann nicht meckern.Preis-Leistungsverhältnis sehr gut.Gerne kaufe ich mal wieder bei Doccheck.
Die Vorratspackung für das Heine mini-Otoskop. Gute Verarbeitungsqualität, schnelle Lieferung, ordentliche Verpackung zu einem vernünftigen Preis. Bin bislang mit DocCheck zufrieden.
Die Heine Einweg-Ohrtips passen gut auf das Heine mini-Otoskop. Die Lieferung erfolgte zügig, die Verpackung war gut und über den Preis kann ich nicht meckern.
Gerne wieder.
Gutes-Preis-Leistungs-Verhältnis.Durchmesser ausreichend.Passend für mein Heine-Mini-Otoskop, gut verpackt und schnell geliefert, ich bin sehr zufrieden, danke - gerne wieder.
Gutes-Preis-Leistungs-Verhältnis. Durchmesser völlig ausreichend. Passend für das Alpha+ Otoskop. Gute Verpackungsgröße mit 50 Stück in einer Packung und kein 1000er Bündel.
Qualitativ hochwertige, kostengünstige Standard-Ohrtips. Leider ist die Öffnung etwas klein und schränkt daher den Lichtkegel und die Sicht etwas ein. Ist aber nur ein geringes Manko.
Die 2,5 mm-durchmessenden Aufsätze sind problemlos auf dem Heine Mini 3000 zu befestigen. Passen auch in alle noch so kleinen Kinderohren und bieten ausreichend Öffnung für eine gute Sicht.
die Einweg-Ohrtips für Erwachsene haben ein gutes Preis-Leistungs-Verhältnis und sind passend für mein Heine-Mini-Otoskop, das mir treu und handlich im Notfallkoffer seit 5 Jahren seine...
Was genau soll ich zu diesem Produkt schreiben? es sind Einweg-Ohrtips für das Heine mini und andere. das Heine mini ist ein Otoskop, das wegen seiner handlichen Größe hervorragend in...