Article successfully added.
Littmann
Master Classic II Veterinary Stethoscope
Stethoscope for animals with excellent acoustics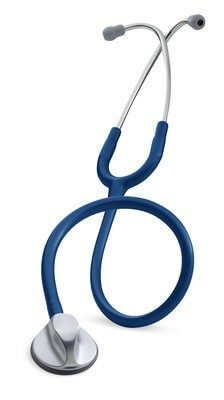 ready for shipment
You will receive your goods between the 27.04.2019 and 02.05.2019
Master Classic II Veterinary Stethoscope
The Littmann Veterinary Stethoscope Master Classic II is largely identical in construction to the Littmann Master Classic II stethoscope.
innovative design
Large Animal Stethoscope
Alloy-light metal master chestpiece
Dual Frequency diaphragm
high-quality single-tube system
double-flat spring for individual adjustment of ear clips
latexfree
total weight: 160 g
weight chestpiece: 90 g
diaphragm diameter: 4,4 cm
3 years warranty
Purchased parts package:
Stethoscope Littmann Master Classic II in original packing
soft ear tips
English instruction manual
FAQ Littmann stethoscopes:
Q: Why can't all colors depicted on the color chart be ordered? A: Littmann doesn't offer every stethoscope type in every color.
Q: How does the Black Edition of Littmann stethoscopes look like? A: Even the metal pieces of these stethoscopes are black.
Q: What is the difference between the Littmann stethoscope Classic II SE and the Littmann stethoscope Classic II? A: It is one and the same stethoscope model, the official name being Littmann Classic II SE. Please note: SE doesn't mean "Student Edition", but stands for "Second Edition" and relates to an improvement of the diaphragm compared to its predecessor.
Q: The diaphragm of my stethoscope has a small hole in the center. Is this a defect? A: This hole is not a production error, but a design feature to enhance sound quality.
Q: Why is 3M Medical listed as the manufacturer? A: Littmann is the world-leading manufacturer in the area of stethoscopes and has produced stethoscopes for 40 years. Littmann belongs to the US-conglomerate 3M.
Some information on Littmann stethoscope counterfeits:
According to 3M Littmann stethoscopes counterfeits are being offered on the market using both the brand and the logo Littmann. These counterfeit products are mainly distributed via the internet. Compared to original Littmann stethoscopes these fakes are of noticeably minor quality. In most cases these stethoscopes are being offered on i. e. Ebay or little online shops. In order to be sure that you receive an original Littmann stethoscope 3M recommends to purchase your stethoscope at an authorised specialist dealer.
DocCheck Shop is, of course, an authorised Littmann specialist dealer.
Further information
Customer assessment ⦁ Master Classic II Veterinary Stethoscope
Sehr gute Akustik und hohe Qualität. Leider ist in der Beschreibung ein Fehler. Es handelt sich hierbei nicht um ein Kleintier- sondern um ein Großtierstethoskop laut Rechnung. Für Hunde...
Stethoskop mit ausgezeichneter Akustik. Weiche Ohroliven. So macht Auskultieren Tieren und Tierärzten Spaß. Leider fehlten die beschriebenen Ersatzoliven, diese wurden jedoch schnell...
Das Littmann Stethoskop ist klasse! Ich habe lange überlegt, ob ich mir schon ein so teures Stethoskop zu kaufen, da ich zur Zeit noch am Anfang meines Studiums bin! Da ich zur Zeit aber...