Article successfully added.
HEINE
Cold-Light Projector HC 7000
the cold-light projector by Heine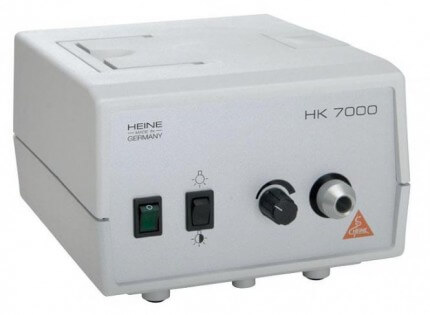 Order number: 153389
Package: 1 piece(s)
Delivery 20 to 24 days
You will receive your goods between the 17.10.2020 and 22.10.2020
Current information on the delivery situation:
Due to the tense situation caused by the Covid-19 eruption, there may be occasional delays in delivery. We have adjusted the capacities of our logistics accordingly, so that we can largely meet the indicated delivery dates.Medical facilities and doctors are supplied by us with priority. We do not supply resellers. Thank you for your understanding!
Cold-Light Projector HC 7000
Optimally suited for skin examination or other diagnostic procedures, and represents an indispensable instrument for every doctor's office.
The cold-light projector serves exclusively for the light-supply of periphery diagnostic instruments like proctoscopes. The light-transfer occurs here through a light lead-cable, such as the standard light lead-cable by Heine, which is also available as accessory here in the shop.
The device is designed for permanent operation and offers light at just the right spot in every situation.

Due to the light temperature of 3800 Kelvin, daylight-like lighting is provided, which , without warming the object too strongly, offers a luminous output of 30.000 in 20 meters distance.
In connection with the special 150-Watt high-performance halogen lamp, a luminous output of up to 40 % higher can be achieved.

luminous output 150 Watt
long lamp-life of up to 500 hours
light output control: without influencing the color temperature
40 % more light via additional switch
includes 150 Watt replacement bulb
measurements: (W x H x D) 177 x 125 x 217 mm