Article successfully added.
Rapid test audiometer with air conduction over eight frequencies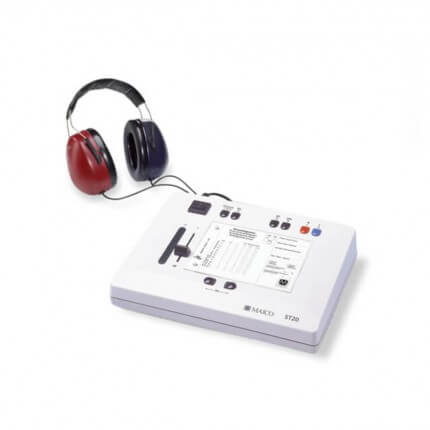 Order number: 289010
Package: 1 piece(s)
Audiometer ST 20 from MAICO
"With the ST 20 you can conduct tone audiometric examinations
as well as quick screening tests. The lightweight and handy ST20 ist
very simple and convenient to operate. Test frequencies are set with
two touch keys and volume leveles with a slide lever. A dot of red light
shows the place to be marked directly in the audiogram field.
This way, the audiogram can be recorded quickly and without mistakes.
The robust headset with good noise dampening characteristics
makes correct measurement possible even in rooms with background noise.
The automatically surging, temporary deafening rushing noise
prevents overhearing with the other ear.
for base-line child audiometry according to EBM 980 (Evidence Based Medicine)
for screening tests, according to G26, G20 Noise
reimbursable per EBM paragraphs 03335 and for the pediatrician per 04335 (both 250 points)
simplest operation with sliders and point of light in the audiogram field
white noise for temporary deafening
comfortable loudness volume adjustment with slider in 5 dB steps
ideal for quickest hearing tests for children and adults
>
Test signals
Steady sine tone or pulse tone
Test frequencies
0,25; 0,5; 1; 2; 3; 4; 6; 8 kHz
Level increments
5 dB click-free
Audiometer class
Class 4 per EN 60645-1
Temporary deafening
white noise, automatically surging
Deafening headset
contra-lateral air conduction headset
Air conduction measurements
Level range
-10 to 100 dB HV, (90 dB at 0.25 kHz, 6 kHz, 8 kHz)
Air conduction headphone
HOLMCO 8103B26 with mickey mouse ears
Power supply
AC 230 volts~, 50/60 hertz, ca. 4 VA
Dimensions and Weights
w x d x h: 29 x 22 x 6 cm / 1.9 kg
Standard accessories
headset, power cord, PC-interface, audiogram pad
Customer assessment ⦁ Audiometer ST 20
Rate this article
Evaluations will be activated after verification.
Nachsatz:
Mit dem Service sowohl am Telefon sowie der sehr schnell ausgeführten Reparatur durch die Firma Maico in weniger als einer Woche ohne lange Ausfallzeiten war ich sehr zufrieden.
Leider konnte mir die Firma Maico diesen Hörer nicht senden. Er sei nicht kompatibel für mein etwas älteres Gerät, es besteht eine Softwrae-Inkompatibilität und so wurde der Auftrag...