Article successfully added.
Single and simultaneous twin monitoring features are standard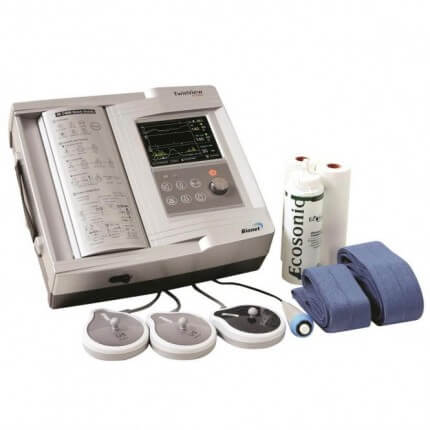 Order number: 294099
Package: 1 piece(s)
This item is not available
FC-1400 Doppler Fetal Monitor
complete with CTG analysis function
large color display
12 hour storage function for interpretation and later printing
thermal printer for documentation
high sensitivity, ultrasound frequency 1 megahertz with output performance < 10 mW/cm2
battery pack option
Product contents
2 x ultrasound doppler probes
1 x Toco probe
1 x event marker
3 straps
1 x ultrasound gel und 2 rolls
CTG paper 152 mm x 25 m
Specifications
FHR
UC
Pulsed doppler ultrasound frequency: 1MHz; intensity: <10 mW /cm2; FHR range: 50-240 bpm FHR Genauigkeit: ±1%
External zero point calibration (reference), Measuring range: 0-99 units
Tones
Display
Doppler, alarm and information tones
320 x 240 pixel color display
Fetal movement
Printer
Source: doppler recording of 2 separate child movements
Thermal printer - DIN A5; Resolution: 8 x 10 dp/mm; print speed: 1; 2; 3; 12.5 cm / min.
Settings
Dimensions
Event marker, 12-hour memory
296 (H) x 305,5 (W) x 97,5 (D)mm.; weighs ca. 3.2 kg
Return conditions
This article is excluded from withdrawal.