Article successfully added.
Bionet
FC-1400 Doppler Fetal Monitor
Single and simultaneous twin monitoring features are standard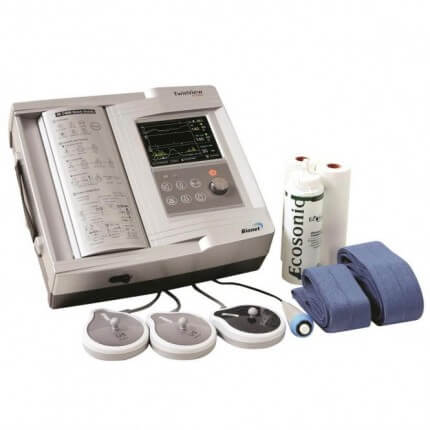 Order number: 294099
Package: 1 piece(s)
Delivery 18 to 22 days
You will receive your goods between the 20.11.2020 and 25.11.2020
Current information on the delivery situation:
Due to the tense situation caused by the Covid-19 eruption, there may be occasional delays in delivery. We have adjusted the capacities of our logistics accordingly, so that we can largely meet the indicated delivery dates.Medical facilities and doctors are supplied by us with priority. We do not supply resellers. Thank you for your understanding!
FC-1400 Doppler Fetal Monitor
complete with CTG analysis function
large color display
12 hour storage function for interpretation and later printing
thermal printer for documentation
high sensitivity, ultrasound frequency 1 megahertz with output performance < 10 mW/cm2
battery pack option
Product contents
2 x ultrasound doppler probes
1 x Toco probe
1 x event marker
3 straps
1 x ultrasound gel und 2 rolls
CTG paper 152 mm x 25 m
Specifications
FHR
UC
Pulsed doppler ultrasound frequency: 1MHz; intensity: <10 mW /cm2; FHR range: 50-240 bpm FHR Genauigkeit: ±1%
External zero point calibration (reference), Measuring range: 0-99 units
Tones
Display
Doppler, alarm and information tones
320 x 240 pixel color display
Fetal movement
Printer
Source: doppler recording of 2 separate child movements
Thermal printer - DIN A5; Resolution: 8 x 10 dp/mm; print speed: 1; 2; 3; 12.5 cm / min.
Settings
Dimensions
Event marker, 12-hour memory
296 (H) x 305,5 (W) x 97,5 (D)mm.; weighs ca. 3.2 kg
Return conditions
This article is excluded from withdrawal.