Article successfully added.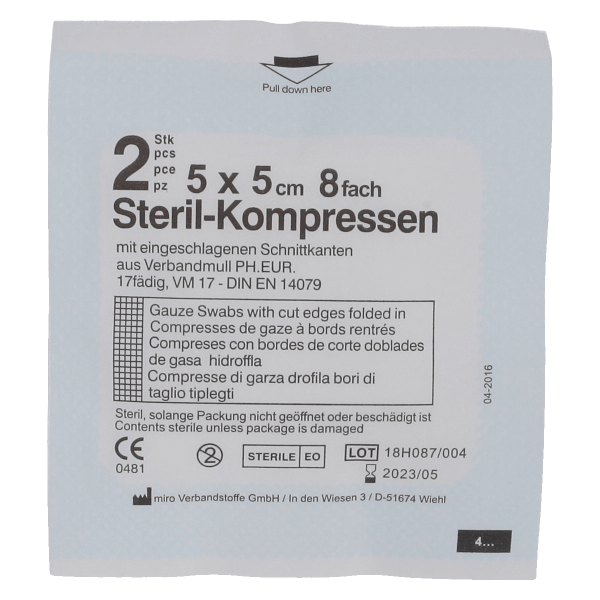 Order number: 153975
Package: 50 Stück
ready for shipment
You will receive your goods between the 22.08.2019 and 26.08.2019
Compresses
Doctor No Kompressen – Auf einen Blick
Verbesserte Qualität
Steril oder unsteril
Mit eingeschlagenen Schlingkanten
100% Baumwolle
Saugstark
Further information
Customer assessment ⦁ Compresses
Sehr gutes Preis- Leistungs-Verhältnis. Die Kompressen sind allerdings recht locker gewebt, erfüllen aber absolut ihren Zweck. Für das Preis-Leistungs-Verhältnis kann man auch mal eine...
Grösse für die Zunge perfekt. Fusselt weniger als manche Markenprodukte. Paket kaum gestaucht, so dass sich die einzelnen Kompressen leicht trennen lassen. Optimales...
Ich verwende diese Kompressen zum ersten Mal in meiner Praxis. Keine Marke, keine überhöhten Preise so hab ich es am liebsten. In der Anwendung gibt es keinen Unterschied zu jeder andere...
Ich könnte auch Markenware kaufen. Das ist aber gar nicht nötig, weil die DocCheck Kompressen in Preis und Leistung meinen Ansprüchen vollends genügen. Auch die einfache Verpackung ist...
Für dieses Produkt habe ich mich entschieden, weil das Preisleistungsverhältnis stimmt. Die einfache Vepackung erspart eine Menge Müll. Papier kann ich gut wiederverwerten.
Diese Kompressen eignen sich ausgezeichnet zum Auspolstern eines steril abgedeckten Blutegelbisses. Sie lassen sich gut mit einem Pflaster fixieren. Die unsterile einfache Verpackung...
Wir haben die DocCheck Kompressen (unsteril 8-fach, 7,5 cm x 7,5 cm, weiß) wiederholt bestellt, da sie unseren Praxisanforderungen auch ohne Markennamen vollends genügen.
Wir bestellen die DocCheck Kompressen unsteril 8-fach, 10,0 cm x 10,0 cm, weiß, da es sich hier um qualitativ hochwertige Mullkompressen zur Wundbehandlung handelt