Article successfully added.
Dr. No
Option Intubation
expansion option for Basic and Basic Plus Contents for Intubation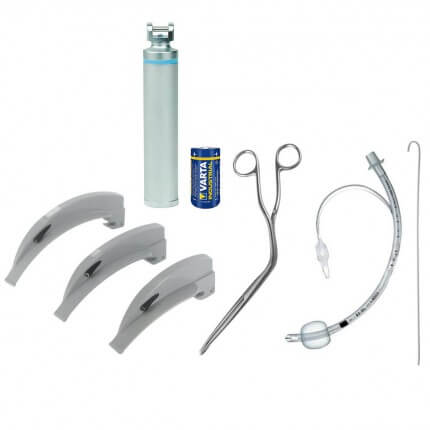 Order number: 100162.1
Package: 1 piece(s)
ready for shipment
You will receive your goods between the 25.09.2020 and 29.09.2020
Current information on the delivery situation:
Due to the tense situation caused by the Covid-19 eruption, there may be occasional delays in delivery. We have adjusted the capacities of our logistics accordingly, so that we can largely meet the indicated delivery dates.Medical facilities and doctors are supplied by us with priority. We do not supply resellers. Thank you for your understanding!
Option Intubation
With this expansion option you can expand your emergency backpack, bag, and case with the "Basic" or "Basic Plus" contents.
Delivery includes
1 laryngoscope handle
1 each disposable laryngoscope blade Mac 2 , Mac 3 , Mac 4
1 each tracheal tube 6,0, 6,5, 7,0, 7,5, 8,0, 8,5
2 batteries
1 Magill forceps, 25 cm
1 insertion mandrel
Return conditions
This article is excluded from withdrawal.
Customer assessment ⦁ Option Intubation
-
Produkt wie erwartet, leider passten die Batterien nicht in das Laryngoskop. Habe die Batterien zusammen mit der Reklamation des Stethoskops zurückgeschickt und erwarte die Rücksendung....
-
Preiswertes Intubationsset, gut verarbeitet, Metallgriff mit mitgelieferten Batterien, 3 Spateln und einem Tubus-Sortiment. Funktioniert gut. Ist erwartungsgemäß mit einmal-Spateln nicht...
-
Habe das Intubationsset als zusatz zu meiner Notfalltasche mit Basic Plus Füllung bestellt. Die Batterien sind bereits enthalten und die Beleuchtung funktioniert gut.