Article successfully added.
Dr. No
Option Intubation
expansion option for Basic and Basic Plus Contents for Intubation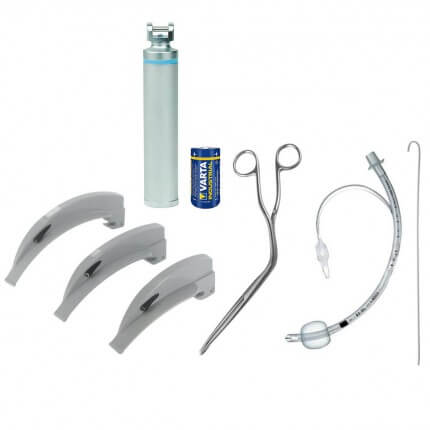 Order number: 100162.1-super
This item is not available
Option Intubation
With this expansion option you can expand your emergency backpack, bag, and case with the "Basic" or "Basic Plus" contents.
Delivery includes
1 laryngoscope handle
1 each disposable laryngoscope blade Mac 2 , Mac 3 , Mac 4
1 each tracheal tube 6,0, 6,5, 7,0, 7,5, 8,0, 8,5
2 batteries
1 Magill forceps, 25 cm
1 insertion mandrel
Customer assessment ⦁ Option Intubation
-
Produkt wie erwartet, leider passten die Batterien nicht in das Laryngoskop. Habe die Batterien zusammen mit der Reklamation des Stethoskops zurückgeschickt und erwarte die Rücksendung....
-
Preiswertes Intubationsset, gut verarbeitet, Metallgriff mit mitgelieferten Batterien, 3 Spateln und einem Tubus-Sortiment. Funktioniert gut. Ist erwartungsgemäß mit einmal-Spateln nicht...
-
Habe das Intubationsset als zusatz zu meiner Notfalltasche mit Basic Plus Füllung bestellt. Die Batterien sind bereits enthalten und die Beleuchtung funktioniert gut.