Article successfully added.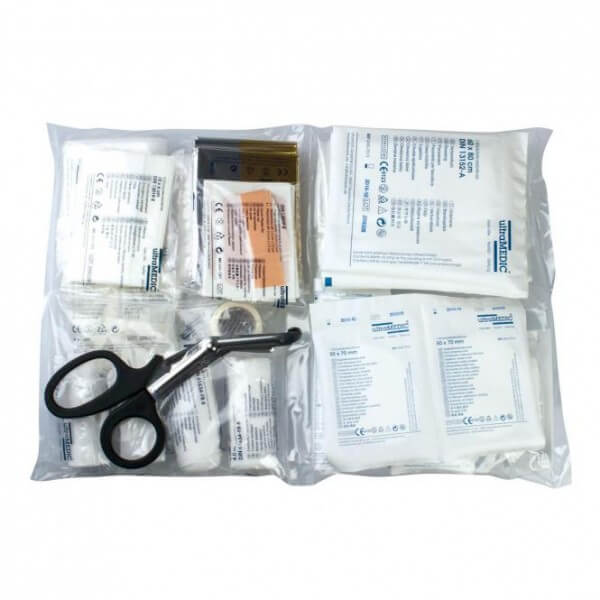 Order number: 112805
Package: 1 Stück
ready for shipment
You will receive your goods between the 22.08.2019 and 26.08.2019
Ultra Filling
Holthaus Austauschsets bieten, wie das Holthaus Verbandstoff-Austauschset für KFZ-Verbandkästen, bei Bedarf die perfekte Erneuerung des verwendeten KFZ-Verbandskasten. Das Refill umfasst sämtliche Füllteile mit Verfallsdatum sowie Pflasterprodukte, sodass etwaig verfallene Teile der bestehenden Erste-Hilfe-Ausrüstung schnell und einfach ausgetauscht sind.
Holthaus Ultra Filling Austauschset – Auf einen Blick
Holthaus Austauschset, 89-teilig für DIN 13 164 (KFZ)
Refill des Erste-Hilfe-Sets für den PKW
Günstig und umfangreich
Inkl. Selbstklebeetikett mit "Verfallsdatum"
Inhalt
2 Rollen pflaster DIN 13019-A 5 m x 2,5 cm
2 Wundset bestehend aus: 4 Fingerkuppenverbände, 4 Fingerverbände 12 x 2, 4 Pflasterstrips 1,9 x 7,2, 8 Pflasterstrips 2,5 x 7,2
2 Verbandpäckchen DIN 13151-K
6 Verbandpäckchen DIN 13151-M
2 Verbandpäckchen DIN 13151-G
2 Verbandtuch DIN 13152-A
12 Kompressen 100 mm x 100 mm
4 Augenkompressen
2 Kälte-Sofortkompressen
2 Rettungsdecken, metallisierte Polyesterfolie
4 Fixierbinden DIN 61 634-FB 6
4 Fixierbinden DIN 61 634-FB 8
4 Dreiecktücher DIN 13 168-D
1 Schere DIN 58 279-B 190
4 Folienbeutel, verschließbar, 300 x 400 mm
10 Vliesstofftücher, 200 x 300 mm 15 g/m2
8 Einmalhandschuhe nach DIN EN 455
1 Anleitung zur Ersten Hilfe
1 Inhaltsverzeichnis
Immer auf dem neuesten Stand - das Holthaus Ersatz-Verbandkasten Set für Kfz
Das Holthaus Verbandstoff-Austauschset KFZ-Verbandkasten macht die Erneuerung des täglich mitgeführten Erste-Hilfe-Sets einfach und unkompliziert. Man muss nicht lange nachdenken, was die Vorschriften besagen, und kann einfach all das im bestehenden KFZ-Verbandkasten ersetzen, das bereits verbraucht oder aber verfallen ist. Das macht die Austausch-Sets für Füllungen unterschiedlicher Art auch so praktisch. Nicht nur für KFZ-Verbandkästen, sondern auch für Betriebs-Verbandskästen sind die optimierten Füllungen erhältlich.
Lieferumfang
Holthaus Austauschset KFZ-Verbandkasten
Further information
Customer assessment ⦁ Ultra Filling