Article successfully added.
First aid kit for work, home and leisure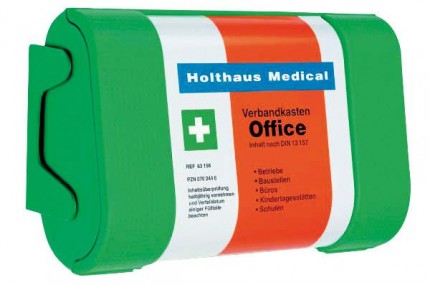 Order number: 152084
Package: 1 piece(s)
Item in stock
You will receive your goods between the 06.03.2021 and 09.03.2021 Due to the Covid-19 pandemic, there may be occasional delays in delivery.
Office First Aid Kit
First aid kit made of polypropylene with encircling printed band and integrated wall holder for fixing in an easily-accessible place.
Inexpensive business first aid for the following: administrative offices with up to 50 workers; manufacturing with up to 20 workers; construction sites, up to 10 workers.

Larger workforces need a suitcase-size first aid kit with DIN 13169 contents; alternatively, 2 DIN 13157 kits.
made of light-weight polypropylenet
lock can be opened comfortably with one hand
complete with wall holder
Contents per DIN 13169
1x roll adhesive plaster, 5m x 2.5cm
8x quick bandage, 10cm x 6cm
4x finger cup bandage, 4cm x 7cm
4x finger bandage, 12cm x 2cm
4x adhesive strip, 1.9cm x 7.2cm
8x Pflasterstrip 2,5cm x 7,2cm
1x bandage packet, DIN 13151-K
3x bandage packets, DIN 13151-M
1x bandage packet, DIN 13151-G
1x bandaging cloth, 60cm x 80cm
6x wound compress, 10cm x10cm
2x eye compress, 5.6cm x 7.2cm
1x instant-cold compress
1x rescue blanket, 2.1m x 1.6m
2x immobilization bandage, DIN 61634-FB 6
2x immobilization bandage DIN 61634-FB 8
2x triangular cloth, DIN 13168-D
1x scissor, DIN 58279-B 190
2x plastic bags, 30cm x 40cm
5x non-woven synthetic cloth, 20cm x 30cm
4x gloves, disposable, per DIN EN 455
1x first aid brochure
1x list of contents