Article successfully added.
Holthaus
Office First Aid Kit
First aid kit for work, home and leisure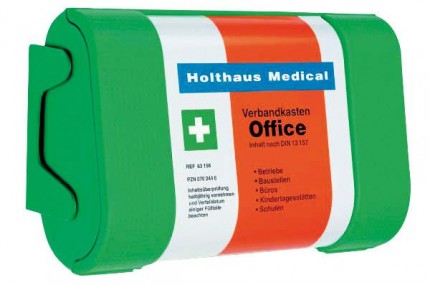 Order number: 152084
Package: 1 piece(s)
ready for shipment
You will receive your goods between the 05.11.2020 and 09.11.2020
Current information on the delivery situation:
Due to the tense situation caused by the Covid-19 eruption, there may be occasional delays in delivery. We have adjusted the capacities of our logistics accordingly, so that we can largely meet the indicated delivery dates.Medical facilities and doctors are supplied by us with priority. We do not supply resellers. Thank you for your understanding!
Office First Aid Kit
First aid kit made of polypropylene with encircling printed band and integrated wall holder for fixing in an easily-accessible place.
Inexpensive business first aid for the following: administrative offices with up to 50 workers; manufacturing with up to 20 workers; construction sites, up to 10 workers.

Larger workforces need a suitcase-size first aid kit with DIN 13169 contents; alternatively, 2 DIN 13157 kits.
made of light-weight polypropylenet
lock can be opened comfortably with one hand
complete with wall holder
Contents per DIN 13169
1x roll adhesive plaster, 5m x 2.5cm
8x quick bandage, 10cm x 6cm
4x finger cup bandage, 4cm x 7cm
4x finger bandage, 12cm x 2cm
4x adhesive strip, 1.9cm x 7.2cm
8x Pflasterstrip 2,5cm x 7,2cm
1x bandage packet, DIN 13151-K
3x bandage packets, DIN 13151-M
1x bandage packet, DIN 13151-G
1x bandaging cloth, 60cm x 80cm
6x wound compress, 10cm x10cm
2x eye compress, 5.6cm x 7.2cm
1x instant-cold compress
1x rescue blanket, 2.1m x 1.6m
2x immobilization bandage, DIN 61634-FB 6
2x immobilization bandage DIN 61634-FB 8
2x triangular cloth, DIN 13168-D
1x scissor, DIN 58279-B 190
2x plastic bags, 30cm x 40cm
5x non-woven synthetic cloth, 20cm x 30cm
4x gloves, disposable, per DIN EN 455
1x first aid brochure
1x list of contents