Article successfully added.
DocCheck
Pocket-Organizer
pocket organizer for every lab-coat pocket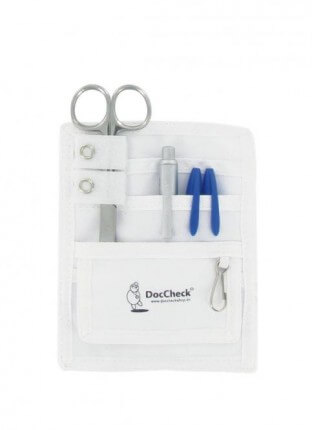 Order number: 820008.1-super
This item is not available
Pocket-Organizer
The small, practical pocket organizer fits in the robe or on the belt. Stores small utensils and is quickly exchanged between lab-robes.
for the continually needed items like scissors, clamp, diagnostic lamp, pen, etc.
material: durable polyester fabric
delivery without contents

| | |
| --- | --- |
| DocCheck Shop Deal: | DocCheck Shop Top Deal, Student Discount |
Further information
Customer assessment ⦁ Pocket-Organizer
-
Der DocCheck Taschenorganizer 15,5 cm x 12 cm, weiß ist sehr praktisch. Er gibt genügend Raum, für Kugelschreiber, Stifte, Schere und ect. Er ist sehr einfach anzubringen.
-
Ein kleiner praktischer Helfer für den Alltag, um kleine Utensilien zu in der Kitteltasche geordnet zu verstauen. Sicher könnte man auch ohne ihn leben, aber schlecht finde ich ihn nicht....
-
Den Taschenorganizer für die Kitteltasche kann ich nur empfehlen. Er ist besonders gut für diejenigen geeignet, die ihren Kittel häufig wechseln und waschen müssen. Bei jeder Wäsche nur...
-
Kann mich meinen Vorrednern nur anschließen! Endlich Ordnung in den Taschen, nix fällt mehr raus und ich komme endlich nicht mehr in die Verlegenheit, nach dem Kittelwechsel Kulis...
-
Praktisch und effektiv alles hat seinen Platz und beim Wechsel des Kittels spart man eine Menge Zeit, da man mit einem Handgriff eine Tasche leer hat und den Organizer in den nächsten...
-
Benutze den Organizer für den Notarztdienst. Da ich keine Lust habe, eine Gürteltasche zu tragen und in den großen aufgesetzten Beintaschen alles rumfliegt und beim Laufen stört, ist das...
-
Ich kann nur wiederholen :Alles hat seinen Platz in diesem praktischen Organizer - er passt in jede Kitteltasche und Wattestäbchen, Stifte, Lampe und die Schere passen perfekt hinein und...
-
Angenehm wenn man schnell zwischen Arztmantel und Shirt wechseln muss. Nie mehr lange irgendwo was aus dem Kittel suchen, wirklich praktisch. Da er weiss ist fällt auch gar nicht auf,...
-
Endlich kein umständiges Räumen mehr, mit einem Griff hat man alles dabei bzw. kann es in einen neuen Kittel tun.Passt sowohl in Brust als auch in Seitentasche...alles hat seinen...
-
Alles hat seinen Platz in diesem praktischen Organizer - er passt in jede Kitteltasche und Wattestäbchen, Stifte, Lampe und die Schere passen perfekt hinein und sind durch Klettklemmen...
-
Endlich fällt nicht mehr alles aus den Kitteltaschen und der Wechsel eines Kittels bedeutet nicht mehr ewiges umräumen der Kleinteile. Nur eine Version in Leder wäre noch etwas besser!
Zinsi
-
Der Organizer ist wirklich eine sehr praktisch hilfe für den klinische Einsatz! Man hat alles sehr schnell griffbereit und das allerbeste ist das er extrem überischtlich ist.
-
Der Organizer ist echt eine praktische Hilfe zum Verstauen von allerei Dingen, wie Stiften, Schere, Pinzette und Kleinkram. Das Beste ist jedoch, beim Anziehen eines frischen Kittels...
-
Bestellung und Versand wie immer schnell und problemlos, der Taschenorganizer ist wirklich total praktisch, grade wenn man jeden tag neue Arbeitskleinung trägt und nicht immer so lange...
-
Leider kann ich keine so gute Bewertung abgeben. Grundsätlich ein nützlicher Helfer, weil er Dinge wie Kugelschreiber, Edding usw. zusammenhält. Doch bei Schere und Klemme hört es dann...
-
Der Taschenorganizer ist einfach nur genial. Ist inzwischen mein zweiter, weil der erste sich zu großer Beliebtheit unter Mitstudenten erfreut hat :-(. Einfach ein must-have. Kein Stifte...
-
Eine wirklich tolle Sache. Zuerst dachte ich mir "Brauch ich das wirklich" - nach einem Blick in die Kitteltasche "Ja, du brauchst es!". Kugelschreiber (mindestens 4 Stück), Edding,...
-
Gut. Jetzt kann ich einfach den Organizer im ganzen aus meinem Kittel holen, den Kittel in die Wäsche schmeißen und am nächsten Tag wieder in den frischen Kittel stecken, ohne dass ich...