Article successfully added.
DocCheck
Latex-Gloves - powder-free
examination gloves of natural latex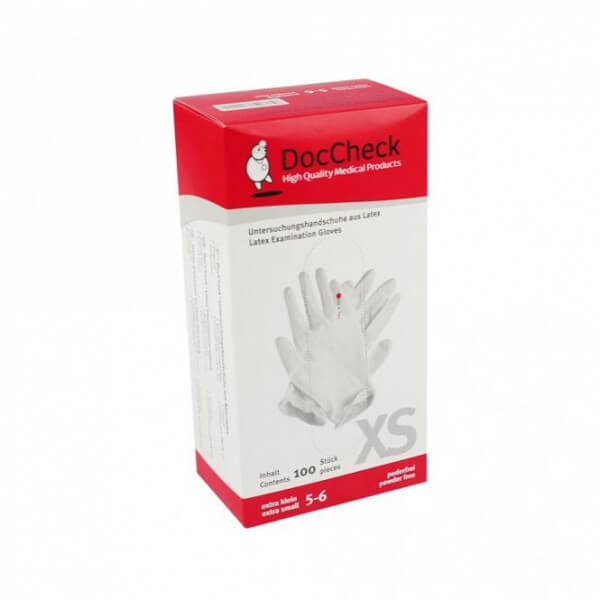 Order number: 100131.1
Packung: 100 Stück
statt

€5.30
(€0.04 * / 1 Stück)
statt

€4.45
(€0.03 * / 1 Stück)
ready for shipment
You will receive your goods between the 19.02.2019 and 20.02.2019
"Latex-Gloves - powder-free"
| | |
| --- | --- |
| DocCheck Shop Deal: | DocCheck Shop Top Deal, Student Discount |
Further information

Customer assessment ⦁ Latex-Gloves - powder-free
-
Das ist wirklich ein spitzen Produkt zu einem unschlagbaren Preis!! Wir benutzen diese in der Produktion von Feinkost und Antipasti und sind absolut überzeugt - eine ganz klare...
-
wir sind ebenfalls absolut mit dem Produkt zufrieden. Die Robustheit und das angenehme Tragegefühl sind haben uns überzeugt. Wir setzen diese jeden Tag ein und sind nicht enttäuscht worden.
-
Sehr hautfreundlich, ein gutes Produkt.Preis-Leistung stimmig.Ich beziehe diese Handschuhe immer wieder und bin sehr zufrieden.Der Versand der Bestellung erfolgt immer zügig und völlig...
-
Super Qualität, bin im Fusspflegebereich tätig. Bester Handschuh den ich je hatte. Sehr gute Passform und angenehm zu tragen. Auch bei feinen Arbeiten keine Einschränkung der...
-
Ich habe mir die Handschuhe für den Präparations- Kurs gekauft und sie stellen meine Erwartungen völlig zufrieden. Sie sind robust und sie sind angenehm zu tragen. Bin völlig zufrieden!
-
Sehr gutes Preis-Leistungsverhältnis. Angenehmes Tragegefühl, lassen sich gut überziehen.
Trage sie täglich und sie müssen eine Menge aushalten und das klappt sehr gut.Werde bei diesem...
-
Zu empfehlen für Großabnehmer mit entsprechend hohem Verbrauch und einmaliger Nutzung. Eingeschränkt strapazierfähig, aber für den unschlagbaren Preis kann nicht mehr erwartet werden. Zu...
-
Die Handschuhe halten sehr gut und zerreissen nicht gleich. Sie passen gut und lassen sich leicht anziehen obwohl sie puderfrei sind. Der Entnahmeschlitz läßt sich gut aufreissen, so dass...
-
Die Latex-Handschuhe gehören bei uns zum täglichen Bedarf. Für unsere Anforderungen sind sie genau richtig: gute Passform, leicht an- und auszuziehen, strapazierfähig. Gutes Produkt mit...
-
Strapazierfähige und sicher reißfeste Handschuhe, einfach so wie man sie sich wünscht. Einzig bei den Größen, da sollte man lieber eine Nummer größer bestellen. Sie sind meiner Meinung...
-
Sehr gutes Preis-Lesitungsverhältnis. gute Qualität. Manche Handschuhe haben allerdings Defekte in Form von kleinen Löchern! Das gibt es allerdings auch bei teureren Anbietern.
-
ich benötige die handschuhe für die tägliche arbeit in meinem bodysugaringstudio in grisheim. das preisleistungsverhältnis ist perfekt. die handschuhe sitzen super.
-
Die Handschuhe sind perfekt! Sie sitzen ohne Probleme und ich persönlich habe Probleme mit einer Allergie gegen die gepuderten Handschuhe und habe hier kein Problem, was ich mit anderen...
-
Die Handschuhe zeichnen sich durch einen tollen Tragekomfort aus. Man kann kommt leicht in die Handschuhe rein. Die Beweglichkeit der einzelnen Finger ist nie eingeschränkt. Gutes Produkt!
-
Die Handschuhe sind preiswert, das Material ist stabil, sie lassen sich gut überziehen. Allerdings finde ich sie für Größe S 6-7 doch etwas eng. Ich würde sie eher als Größe 5-6 bezeichnen.
-
die handschuhe sind im gebrauch sehr gut, leicht anzuziehen und reissfest, verbessrungsvorschlag wäre das für die verschiedenen größen eine faränderung zum besseren erkennen
-
Gute Passform und gute Qualität der Handschuhe. Sie sind reißfest, dennoch gut dehnbar und liegen der Haut geschmeidig an. Das Preisleistungsverhältnis ist ebenso empfehlenswert.
-
Gute Qualität, Taktilität und wenig Ausschuß. Lassen sich gut und verklebungsfrei aus der Verpackung entnehmen. Kein Unterschied zu höherpreisigen Handschuhen. Sehr gutes...
-
Spitzenmässig, wie immer Top Ware und blitzschneller Versand. Weiter so:-)
Die Hanschuhe sind sehr angenehm zu tragen. Sehr dünn und vorallem reissfest was das wichtigste ist.
-
Ein sehr gutes und vor allem preisgünstiges Produkt, da gerade in letzter Zeit die Preise von Latexhandschuhen enorm in die Höhe geschnellt sind. Für Großabnehmer eine günstige Alternative.
-
Super Handschuh. Sehr anschmiegsam und somit auch für Arbeiten, bei denen man Fingerspritzengefühl braucht sehr gut geeignet. Verwende Ihn im kosmetischen Bereich. Der Handschuh hat eine...
-
Diese Einmal-Handschuhe haben ein gutes Preis-Leistungsverhältnis. Sie sind einfach anzuziehen und reissen selten. Ich bin so zufrieden damit, dass sie auch zu Hause regelmäßig zum...
-
Super angenehm zu tragender Latex-Handschuh. Passt sich perfekt den Handkonturen an, und ist somit sehr gut für die Arbeit im kosmetischen Bereich geeignet. Er ist einer der wenigen...
-
Die Handschuhe sind angenehm zu tragen, reißfest. Der Geruch könnte etwas besser sein, riechen etwas wie Luftballons. Ich fände es außerdem besser, wenn die unterschiedlichen Größen...
-
Die Hanschuhe haben eine super Qualität, sie sind sehr dünn trotzdem reißfest und haben einen angenehmen Tragekomfort. Sehr schnelle Lieferung ich bin sehr zufrieden. Tolles...
-
Ich habe schon viele Handschuhe ausprobiert, aber dieser hat mich überzeugt.
Angenehm zu tragen, läßt sich gut anziehen und sehr strapzierfähig.
Ich werde bei diesem Handschuh bleiben.
-
Die Handschuhe (bei mir Größe M) sind absolut alltagstauglich und bei dem Preis auch recht günstig. Im Gegensatz zu (etwas teuereren) Konkurrenprodukten empfinde ich einen etwas stärkeren...
-
Super Produkt. Stehen anderen Handschuhen in nichts nach. Extrem robust und reißfest. Lassen sich auch gut aus der Verpackung nehmen.
Die Größe stimmt mit anderen Firmen überein. Auch für...
-
Durch die gute Passform und das dünne Material sind diese Handschuhe sehr griffig, was ein großes Plus ist. Allerdings: Vorsicht bei Pflasterkontakt, weil sie leicht reißen. Fazit: gutes...
-
Die Handschuhe sind von guter Qualität und im Tragekomfort entsprechend angenehm. Die Passform entspricht meinen Erwartungen. Bei dem Preis würde ich mir die Handschuhe in jedem Fall...
-
Die DocCheck Latex-Handschuhe puderfrei unsteril in Grösse M sind durch ihr Material sehr anpassungsfähig und widerstandsfähig, was beim anwendenden Arzt und medizinsichen...
-
Super Angebot vom DocCheckShop. Qualität der Handschuhe ist ganz gut. Der Preis kann sich sehen lassen und hat ein unschlagbares Preis-Leistung-Verhältnis. Werde mir diese bei Bedarf...
-
Strapazierfähige, angenehm tragbare Handschuhe, neben dem medizinischen Einsatz sind diese auch für Haushalts- /Putz- und handwerkliche Arbeiten sehr gut geeignet.
-
Die Handschuhe wurden schnell geliefert und waren wie gewohnt für übliche zahnärztliche Behandlungen, die nicht länger als 30 min dauerten ausreichend strapazierfähig. Bei längeren...
-
Diese unsterilen Handschuhe sind sehr passgenau. Die Verträglchkeit ist gut. Leider reissen sie ziemlich schnell bei Strapazierung, sodass wir oft 2 Paar auf einmal tragen müssen. Das...
-
Ich bin ganz zufrieden mit den Latex-Handschuhen. Sie haben eine gute Paßform, sind schön dünn und daher sehr angem zu tragen. Die Handschuhe sind hautverträglich und ralativ...
-
Diese DocCheck Latex-Handschuhe-puderfrei, unsteril und klein sind mega-mega interessant!!! Ich nehm sie auch privat zum Putzen und sie sind einfach total qualitativ oberaffenhammergut!...
-
Handschuhe sind sehr gut von der Paßform, lassen sich gut anziehen und sind ziemlich strapazierfähig. Die Hautverträglichkeit ist auch super. Mit Pflaster o. ä. sollten sie nicht in...
-
Die Handschuhe sind leicht anzuziehen und reissen nicht, auch wenn mal die hände feucht sind. sie haben einen ausreichnenden grip, um nicht feine instrumente unkontrolliert rutschen zu...
-
Die handschuhe sind sehr gut, sie sind griffig, sodass man jedes noch so kleines handinstrument sicher führen kann. ausserdem sind sie sehr strapazierfähig, sodass man sie leicht anziehen...
-
Die Latexhandschuhe lassen sich sehr gut tragen; sie sind sehr haurvertäglich und so dünn, dass man sie beim Tragen kaum bemerkt, aber auch Gefahr läuft, dass sie recht schnell...
-
Ich mag die Handschuhe gerne, da sie sich angenehm tragen lassen, einfach anzuziehen sind und auch gut passen. Mittlerweile nutzen auch der Kindergarten für seine Wickelkinder diese...
-
Die Handschuhe selbst entsprechen genau meinen Erwartungen. Die Größenangabe passt und die Handschuhe sind somit recht angenehm zu tragen. Trotzdem schließen sie dicht ab und rutschen...
-
Die Latex-Handschuhe gefallen mir sehr gut, da sie recht dünn sind und deshalb sehr gefühlsecht, auch schlechte Venen sind gut zu tasten. Für aufwendige Verbandswechsel sind sie nicht so...
-
Standard-Handschuhe für den Einmalgebrauch. Angenehm zu tragen - soweit man das über Latex-Handschuhe überhaupt sagen kann. Gutes Preis-Leistungs-Verhältnis, gute Verpackungsgröße.
-
Die Handschuhe sind angenehm auf der Haut zu tragen und für sehr kleine Hände gut geeignet.Jedoch passen wirklich nur Kinderhände oder die von sehr zierlichen Frauen in die Handschuhe.
-
Hallo zusammen,
Puderfreie Latexhandschuhe, wie hier garantieren ein perfeke Anpassung an die Hände.
Sehr hervorzuheben wäre da auch die Gefühlsechte, die bleibt.
Ein reines Naturprodukt,...