Article successfully added.
For demineralizing water at reasonable cost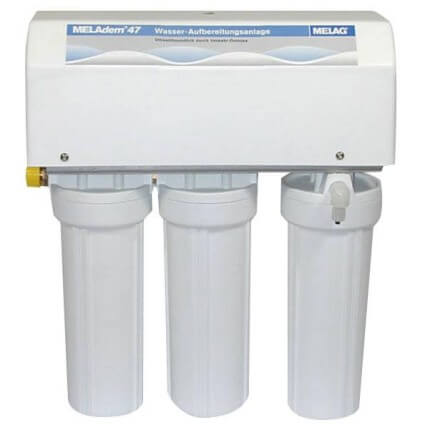 Order number: 290770
Package: 1 piece(s)
Goods in the inlet. Delivery date will be communicated
Meladem 40 Water Exchanger
MELAdem 40 makes producing low-cost, demineralized water (aqua dem) right in your practice possible. By applying the ion-exchange principle, ions like calcium and magnesium, for example, are removed from tap water and replaced with oxygen and hyrdroxide ions. That's how MELAdem 40 can deliver high-quality demineralized water. With the MELAdem 40 coupled directly to MELAG, it automatically supplies high-quality, demineralized water for every sterilization.

Autoclaves of the Premium, Profi, and S classes are factory-equipped with holders on their housings where the MELAdem 40 attaches. For attaching it to the Vacuquick models or to a wall, appropriate holders are available.

for connecting directly to Vacuklav, Vacuquick und Euroklav
automatically demineralized water for sterilization
MELAdem 40 = low sterilization needs
Meladem 47 = high sterilization needs
MELAdem 40 requires replaceable cartridges
Technical Data
| | |
| --- | --- |
| Outside Dimensions: (w x d x h in cm) | 32 x 15 x 35 |
| Weight (filled) | 2.4 Kg |
| Capacity(at 600 µS/cm tap water) | ~ 120 liters |
Sterilization Quality Assurance
The compact water conditioning equipment MELAdem 40 delivers high-quality demineralized water for steam generation in autoclaves. When directly connected to Vacuklav and Euroklav, it feeds "aqua dem" automatically for every sterilization.
Fresh aqua dem is best for getting instruments spot-less and to extend the autoclave's useful life. MELAdem 40 also makes sense even for traditional autoclaves using the water-circulation system, because their built-in water storage tanks can be directly filled with aqua dem using the optional MELajet spray pistol.
Naturally, MELAdem 40 can be deployed wherever good water quality is indispensable, for example, where x-ray films must be developed and cast materials must be mixed, as well as for use in steam injectors or laboratory work.
Return conditions
This article is excluded from withdrawal.