Article successfully added.
Dr. No
Kidney-Dish
stainless steel kidney-dish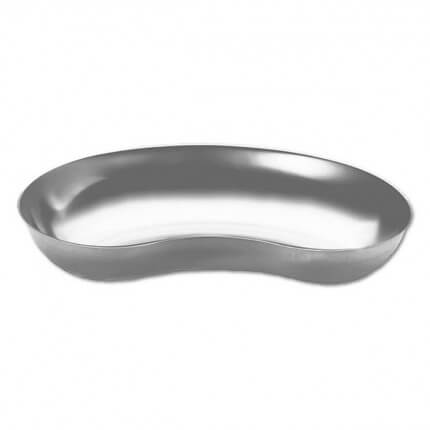 Order number: 156263-super
This item is not available
Kidney-Dish
Bowl for catching body excretions, curved form facilitates holding it close, for example, to the neck.
Per medical product law, may be cleansed in a disinfecting cleaning apparatus, for example, an autoclave, and re-used, since it only involves human excretions.
Also for depositing used instruments or pieces of tissue removed during operations.
shiny finish
rust-free
autoclavable
Customer assessment ⦁ Kidney-Dish
-
Sehr schönes stabiles und gut abwaschbares Produkt, auch wenn der gebogene Rand eine Delle aufweist. Die Größe ist durchaus geeignet, um es auch als Spritzentablett zu verwenden.
-
Sehr gute Verarbeitung und die Größe ist perfekt.Die. Spülmaschine hat die Schale ohne Probleme überlebt. Sehr schneller Versand! Weiterer Vorteil: Sterilisierbar!
-
Ich habe diese Größe mehrfach und finde sie unschlagbar. Im Gegensatz zur großen Nierenschale (von der ich materialmäßig sehr enttäuscht war)sieht diese wirklich edel aus. Selbst Spuren...
-
Die Nierenschale ist gut verarbeitet, stabile Ausführung, gut zu reinigen, allerdings ist mir der Rand nicht hoch genug. Der Versuch drei 20 ml Spritzen für Aderlass sinnvoll abzulegen,...
-
edel aussehende, kleine praktische Ablageschale, sehr leicht in der Reinigung, die kleinere Ausführung ist in der Handhabung sehr vielseitig einsetzbar, möchte sie nicht mehr missen
-
Dieser nützlicher, kleiner Helfe ist im Labor einfach nicht wegzudenken.
Der Artikel entspricht der Beschreibung. Er ist sehr gut zu Reinigen und ist auch sonst unverwüstlich.
-
Das Produkt ist gut verarbeitet und robust. Klasse zum reinigen. Hat diverse Spülmaschienen und auch Scheuerdesinfektionen problemlos überstanden. Außerdem auch stabil.
-
Sehr gute und stabile Ausführung zu einem günstigen Preis. Überstand die Spülmaschine problemlos und macht sich sehr gut in meiner Praxis.
Gerne wieder..in einer anderen Größe
-
Die klassische Nierenschale, alt bekannt, alt bewährt. Solide schwere Qualität, Leicht zu reinigen und von der Größe her ideal für kleinere ambulante Eingriffe oder Pflegemaßnahmen....