Article successfully added.
With Finity lenses and LED illumination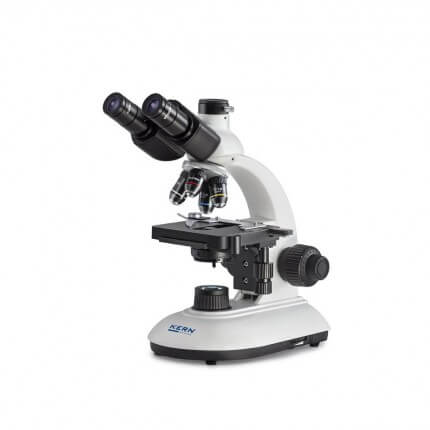 Order number: 101809.0
Package: 1 piece(s)
Delivery 8 to 11 days
You will receive your goods between the 29.08.2022 and 01.09.2022 Due to the tense situation caused by the Covid-19 eruption, there may be occasional delays in delivery.
OBE 114 Transmitted light microscope trinocular from KERN
The KERN OBE 114 trinocular microscope is suitable for medical practices, science and education. The high-quality transmitted light microscope provides excellent images for translucent, thin and high-contrast tissues and cells. The high-quality optics with achromatic objectives and the continuously dimmable LED illumination ensure a wide range of applications. The height-adjustable ABBE condenser with aperture diaphragm ensures optimal light focusing. The microscope is also available as a digital complete solution with adapted C-mount camera or high-resolution tablet camera as a set. This means that it is also ideally equipped for demonstration purposes in the laboratory and education.
Product details
Transmitted light microscope for high-contrast preparations
Trinocular design with connection tube for camera
Field of application in education, hematology, sediments, medical practices
4-fold revolving nosepiece
Mechanical stage for 1 slide
Incl. dust cover and eyecups
Dimensions microscope OBE 114: W 320 × D 180 × H 365 mm
Dimensions microscope camera ODC 825: W 80 x H 80 x D 45 mm
Dimensions tablet camera ODC 241: W 238 x D 51 x H 206 mm
Weight microscope OBE 114: 4.988 kg
Optionally with tablet or C-mount camera (incl. adapter)
Microscope set with camera
The trinocular OBE 114 is also available in a set with an adapted C-mount camera for sharp images or a tablet camera for direct viewing of live images. A C-mount adapter is included for connecting the camera to the third tube.
Microscope camera ODC 825 - For high-resolution color images, the microscope is available together with a handy microscope camera. In studies and training as well as in medical or scientific work, digital images can be recorded as still images or video. The small ocular camera has a particularly high frame rate and stable image performance. The data can be stored on a PC via the USB interface and edited using the Microscope VIS software included in the set.
Tablet camera ODC 241 - This camera is a 2-in-1 combination of an Android tablet with a 5 MP camera. Live transmission of the image allows samples to be presented instantly for teaching purposes and presentations. It is also easy to create images and videos for documentation. The pre-installed software enables automatic white balance and contrast compensation. For simple measurements, the camera model offers distance, area and angle measurements as well as a manual counting function. Integrated interfaces provide a variety of additional functions, such as data storage on USB stick or SD card, connection of a USB mouse, transmission of the live image to an external screen via HDMI, and transmission of stored data to external receivers via WLAN.
Technical details
Microscope OBE 114
Objective lenses:
- 4 x / 0.10 / working distance 18.6 mm
- 10 x / 0.25 / working distance 6.5 mm
- 40 x / 0.65 (spring loaded) / working distance 0.47 mm
- 100 x / 1.25 (oil) (spring loaded)/ working distance 0.07 mm
Objective lenses: DIN achromatic (finite optics)
Optical system: Abbe condenser 1.25 (numerical with aperture diaphragm)
Illumination: 3 W LED
Siedentopf: 30° inclined, 360° rotatable
Eyepieces: High widefield, 10x magnification, Ø 18 mm
Dioptric compensation: one-sided
Microscope camera ODC 825
Resolution: 5.1 Mpx
Frame rate: 6.8 - 55 fps
Sensor: CMOS 1/2,5"
Multilingual Microscope VIS software (English, German, Spanish, Italian, French)
Supported operating system: Windows XP, Vista, 7, 8, 8.1, 10
USB 2.0 port
Tablet camera ODC 241
Resolution: 5 Mpx7
Sensor: CMOS 1/2.5"
Supported operating system: Android
WLAN function
SD card slot
USB 2.0 port
HDMI port
Scope of delivery
OBE 114 microscope
1 KERN OBE 114 transmitted light microscope trinocular
1 power supply unit
2 eyecups
1 dust cover
Set with ODC 825 camera
1 KERN OBE 114 transmitted light microscope trinocular
1 power supply unit
2 eyecups
1 dust cover
1 KERN ODC 825 microscope camera
1 C-mount adapter
1 USB cable camera
1 Object micrometer
1 Software Microscope VIS
Set with ODC 241 Tablet Camera
1 KERN OBE 114 transmitted light microscope trinocular
1 power supply unit
2 eyecups
1 dust cover
1 ODC 241 Tablet camera with software
1 C-mount adapter
1 Power supply unit camera
Return conditions
This article is excluded from withdrawal.
Further information