Article successfully added.
WiduMed
WiduMed D-Dimer Test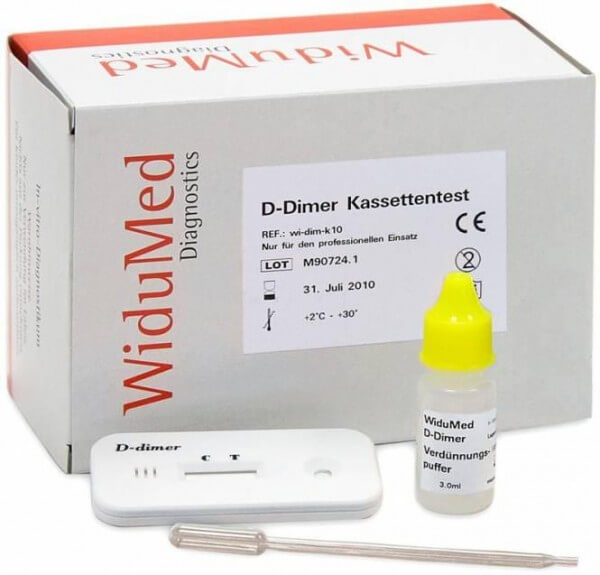 Order number: 114859
Package: 10 piece(s)
ready for shipment
You will receive your goods between the 06.06.2020 and 10.06.2020
Current information on the delivery situation:
Due to the tense situation caused by the Covid-19 eruption, there may be occasional delays in delivery. We have adjusted the capacities of our logistics accordingly, so that we can largely meet the indicated delivery dates.Medical facilities and doctors are supplied by us with priority. We do not supply resellers. Thank you for your understanding!
WiduMed D-Dimer Test
Bei Verdacht auf eine Gerinnungsstörungen (DIC), tiefer Venenthrombose (TVT) und Lungenembolie kannst du mit diesem Schnelltest D-Dimere bestimmen. Der Schnelltest beinhaltet alles Zubehör, welches dazu benötigt wird und weist eine hohe Sensitivität auf. So kann eine schnelle und kostengünstige Ausschlussdiagnose gestellt werden. Ein negatives Ergebnis hilft bei Patienten mit unklaren Symptomen, wie z. B. Spannungsgefühl in den Beinen, Thoraxschmerz oder Atemnot, eine Thromboembolie oder übermäßige Blutgerinnung auszuschliessen.
WiduMed D-Dimer Test – Auf einen Blick
Schneller qualitativer Test
Nachweis von D-Dimeren
Zuverlässige in vitro Diagnostik
Visuelles Ergebnis im Kontrollfenster der Testkassette
Probenmaterial: Plasma oder Vollblut
Reaktionszeit: 10 Minuten
Anwendung bei Raumtemperatur
Lagerung bei 2 - 30°C
Testkassetten hygienisch einzeln verpackt
Lieferumfang
10 WiduMed D-Dimer Testkassetten
10 Einwegpipetten
Pufferlösung
1 Gebrauchsanweisung