Article successfully added.
for performance-diagnostic and cardiac rehabilitation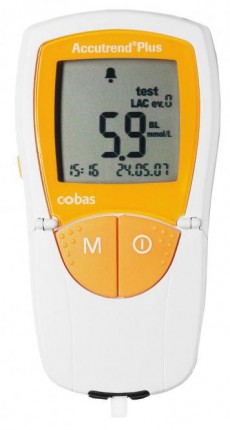 Order number: 100810.1
Package: 1 piece(s)
Delivery 12 to 15 days
You will receive your goods between the 10.02.2022 and 14.02.2022 Due to the tense situation caused by the Covid-19 eruption, there may be occasional delays in delivery.
Accutrend Plus from Roche
For performance-diagnostic and training-control
For recreational or performance sports as well as rehabilitation in cardiac and pulmonary diseases. Lactate, the salt of lactic acid, occurs during physical stress. There's a relationship between the lactate-concentration in the blood and the intensity. As a rule: the more intense the muscular demands, the higher the lactate-value. The instant measuring of the blood's lactate-level with Accutrend Lactate therefore affords the choice of the individually correct training-intensity, sensible balance between stressing muscles and relaxation, reduction of over-stressing and danger of injury.
In the clinic and emergency medicine
The lactate-value reflects the extend of a hypoxia in the tissue. Its value can therefore be used for the prognosis of morbidity and mortality. There is a connection between level of injury and level of lactate-concentration. The repeated control of lactate after 12 hours, additionally enables the prognosis for patient survival. Lactate-determination is therefore indispensable in many emergency situations: i.e. with shock, cardio-vascular diseases, heart-failure, and cardiac arrest.
simple and quick lactate-diagnostic
requires just 15-50 µl blood
results in 60 sec.
memory for 100 values
Measuring principle
Enzymatic lactate determination and reflection-photometry of lactate
Measuring wave-length
657 nm
Result-indication
60 seconds
Measuring range
Measuring values can be displayed with regard to blood or plasma
Sample material
Un-dosed capillary blood
Sample volume
15 - 50 µl capillary blood
Temperature range

To 10 mmol/l

+5° C to +35° C (plasma)



From 10 mmol/l

+15° C to +35° C (plasma)

To 8 mmol/l

+5° C to +35° C (blood)

From 8 mmol/l

+15° C to +35° C (blood)


Relative humidity
10 - 90 %
Control
2 control-solutions with concentrations of approx. 2 and 8 mmol/l
Memory
100 values with time, date, and storage-recognition
Automatic shut-off
Without depressed key after 5 minutes
Weight
90 g without batteries
Size

62 x 115 x 18,5 mm

(W x H x D)

Return conditions
This article is excluded from withdrawal.
Customer assessment ⦁ Accutrend Plus
Rate this article
Evaluations will be activated after verification.
das Messgerät entspricht den Erwartungen, der Aufbau ist übersichtlich, sowohl die Anweisungen als auch die Bediehnung ist einfach und entspricht den Wünschen - nur zu dem Gerät sind auch...
Auf Grund dieses Geräts musste ich feststellen, dass alle anderen Geräte die ich getestet habe, nur für den Mistkübel taugen, da diese den Zuckerwert frei nach Zufall anzeigen.
Produkt sehr handlich, Bedienung gewöhnungsbedürftig aber gut funktionierend, Bedienungsanleitung eine einzige Katastrophe!!! Teststreifen wie immer bei solchen Geräten relativ...