Article successfully added.
Roche
Precipath U for Reflotron
Modern diagnostics for the the practice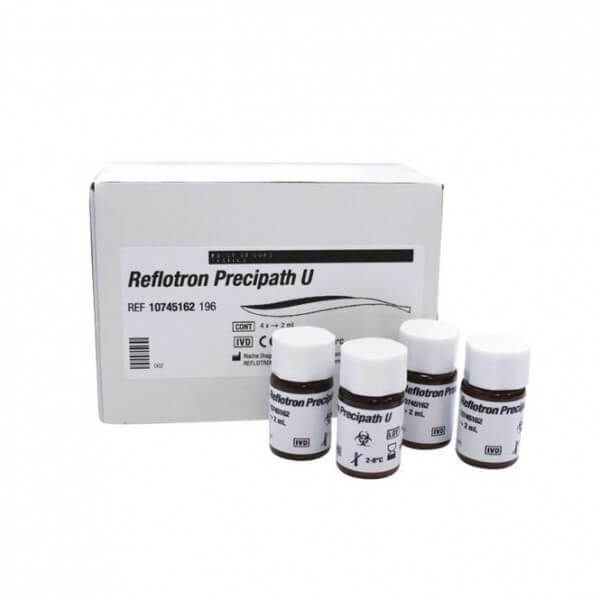 Order number: 153565
Package: 4 piece(s)
ready for shipment
You will receive your goods between the 11.04.2020 and 16.04.2020
Current information on the delivery situation:
Due to the tense situation caused by the Covid-19 eruption, there may be occasional delays in delivery. We have adjusted the capacities of our logistics accordingly, so that we can largely meet the indicated delivery dates.In addition, we reserve the right to reduce the quantities when ordering larger amounts or multiple orders. Medical facilities and doctors are supplied by us with priority. Thank you for your understanding!
Precipath U for Reflotron
Die Precipath U Lösung wird zur Durchführung von Kontrollprobeneinzelmessungen verwendet, die der Qualitätskontrolle nach Vorgabe der RiliBÄK dienen. Eine abwechselnde Durchführung der Kontrolle mit Precipath U und Precinorm U wird empfohlen. Precipath U wird in 4 Einheiten mit jeweils 2 ml Inhalt geliefert und sollte im Kühlschrank gelagert werden.
für Kontrollprobeneinzelmessungen
Kontrolle mit Werten aus dem pathologischen Bereich
zur internen Qualitätssicherung (nach RiliBÄK)
passend für Reflotron Systeme
im Wechsle mit Precinorm U für Reflotron durchführen
im Kühlschrank lagern (durch Einfrieren länger haltbar)
Lieferumfang
4 Stück Precipath U à 2 ml Kontrollserum für Reflotron
Return conditions
This article is excluded from withdrawal.