Article successfully added.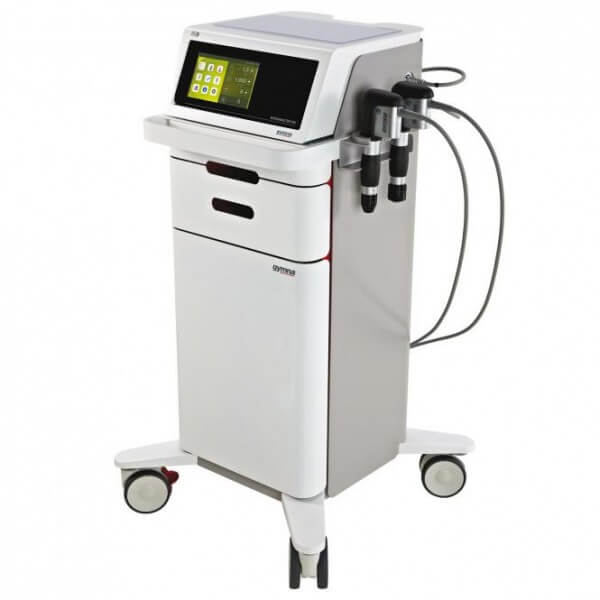 Order number: 117902
Package: 1 piece(s)
Delivery 17 to 21 days
You will receive your goods between the 27.06.2020 and 02.07.2020
Current information on the delivery situation:
Due to the tense situation caused by the Covid-19 eruption, there may be occasional delays in delivery. We have adjusted the capacities of our logistics accordingly, so that we can largely meet the indicated delivery dates.Medical facilities and doctors are supplied by us with priority. We do not supply resellers. Thank you for your understanding!
Shockmaster 500
Der Gymna Shockmaster 500 ist ein Gerät für die Stoßwellentherapie in Praxis und Klinik. Die Stoßwellenbehandlung eignet sich zur Therapie von Kalkschultern, Tennisellenbogen, Fersensporn, Achillessehnen und Triggerpunkten.
einfache Bedienung über Touchscreen
visuelle Darstellung des Auswertungsprozesses durch VAS-Punkte
kurze Behandlungszeit
schnelle Amortisation und geringe Folgekosten
leiser kräftiger Ölkompressor
Das perfekte Therapiegerät für die extrakorporale Stoßwellentherapie
Bei diesem Gerät für die Stoßwellentherapie ist die Bedienung einfach über den Touchscreen auszuführen. Die visuelle Darstellung des Auswertungsprozesses des Patienten wird durch VAS-Punkte ermöglicht.
Bei der exkorporalen Stoßwellentherapie brauchen Sie nur eine kurze Behandlungszeit um sehr gute Ergebnisse zu erhalten. Rund 80 % der mit den Stoßwellen behandelten Patienten berichten nach 2-3 Behandlungen bereits von Schmerzfreiheit oder einer erheblichen Reduzierung der Schmerzen. Diese Therapie dient zur Behandlung von Kalkschultern, Tennisellenbogen, Fersensporn, Achillessehnen und Triggerpunkten.
Das Gerät zeichnet sich außerdem durch eine schnelle Amortisation und geringe Folgekosten aus. Die Leistung des Gymna Shockmaster 500 für die Stoßwelle wird durch einen sehr leisen aber kräftigen Ölkompressor realisiert.
Technische Details
Anwendungsdruck 1-5 Bar
Frequenz 1-21 Hz mit V-Actor 1-35 Hz
Speicher für bis zu 2.500 Patienten
komfortable Softwareupdates über USB-Anschluss
Anschluss für zweites Handstück oder V-Actor zur Komplexbehandlung
freie Parameterwahl ist möglich
Dieses Gerät hat für die Stoßwelle einen Anwendungsdruck von 1-5 Bar und eine Frequenz von 1-21 Hz mit dem V-Actor 1-35 Hz. Es ist eine freie Parameterwahl möglich. Es besteht die Möglichkeit ein zweites Handstück oder einen V-Actor zur Komplexbehandlung anzuschließen. Der Speicher reicht für die Sicherung der Werte von bis zu 2.500 Stoßwellenbehandlungen. Komfortable Softwareupdates können über einen USB-Anschluss durchgeführt werden.
Lieferumfang
1 Gymna Shockmaster 500
2 ballistische Handstücke
Behandlungskopf (15 mm)
D-Actor-Behandlungskopf (20 mm, S)
Deep Impact Applikator
Gerätewagen
Das Produkt ist in Deutschland nach MPBetreibV einweisungspflichtig. Die Einweisung ist nicht im Preis enthalten.
Return conditions
This article is excluded from withdrawal.