Article successfully added.
PARI
JuniorBoy S
Inhalation device for the lower bronchial passages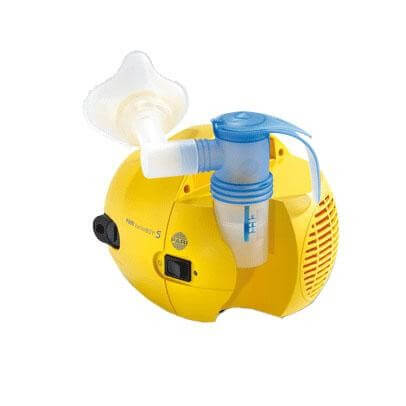 Order number: 293054
Package: 1 piece(s)
ready for shipment
You will receive your goods between the 24.09.2020 and 28.09.2020
Current information on the delivery situation:
Due to the tense situation caused by the Covid-19 eruption, there may be occasional delays in delivery. We have adjusted the capacities of our logistics accordingly, so that we can largely meet the indicated delivery dates.Medical facilities and doctors are supplied by us with priority. We do not supply resellers. Thank you for your understanding!
JuniorBoy S
Inhalation therapy device for the lower bronchial passages appropriate for children. Comes with accessories (soft BABY mask, BABY bend) so that babies as young as one month can use it.
PARI LC SPRINT Junior nebulizer provides a finer aerosol spectrum specially for the smaller respiratory tracts of babies and infants.

The PARI JuniorBOY® S is ideal for the high-efficiency treatment of babies from the age of one month. The device's design and its aerosol composition are specially adapted to the needs of very young patients.

The PARI JuniorBOY S creates extremely fine aerosol droplets. Only such fine droplets are capable of reaching their lungs in therapeutically effective quantity, because children's airways are smaller than those of adults. .

A baby mask is included for treating babies and infants. This soft, close fitting mask is equipped with a freely rotatable bend so that it can always be positioned correctly for a comfortable, effective inhalation treatment while sitting or lying down.

soft baby mask
mouthpiece for children age 3 and up
finest aerosol spectrum effective during the first month of life
short inhalation time
efficient lung deposition
easy to use
Technical Data
Total output rate
320 milligram/minute
MMD (Media Mass Diameter)
2.9 micrometer
Mass fraction < 5 micrometer:
76%
Compressor
320 mg/min
Power supply
230 volts~ / 50 hertz / 0.5 amps / 60 watts

Housing dimensions (w x h x d)

18 x 11.5 x 16 cm
Weight
1.25 kg
Pressure
1.25 bar
Product contents

PARI BOY S compressor
PARI LC SPRINT nebulizer
connecting tube
power cord