Article successfully added.
DÜRASOL
Mobile Ampule Dispenser
ampoule dispenser - opens with keystroke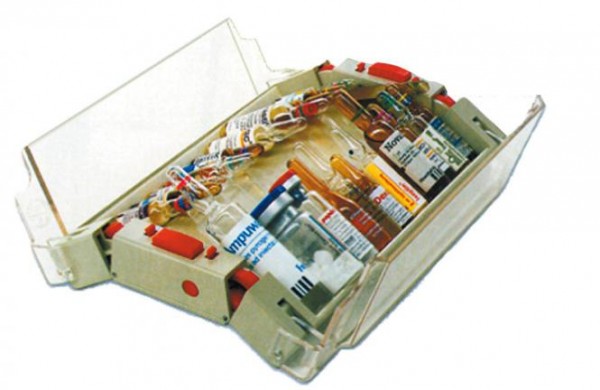 ready for shipment
You will receive your goods between the 22.08.2019 and 26.08.2019
Mobile Ampule Dispenser
Dürasol mobile Ampullen-Spender sind aus hochschlagfestem, transparentem ABS-Kunststoff gefertigt. Das macht das Ampullarium besonders praktisch für Hausbesuche, denn so hat man die passende Ampulle gleich griffbereit zur Hand – und trotzdem geschützt in der Arzttasche. Der Dürasol Ampullen-Spender kann übrigens auch zur Bestückung mit 250 mg Trockensubstanz-Ampullen verwendet werden.
Dürasol Ampullarium für die einfache Entnahme auf Tastendruck
leichte Lesbarkeit der Ampullen-Beschriftung dank Transparenz
flach und handlich, kompakt für alle Arzttaschen
stapelbar
Material: hochschlagfester ABS-Kunststoff mit glasklarem Polycarbonat
Abmessungen: 20 x 12 x 2,5 cm
Lieferung ohne Inhalt
Dürasol Ampullen-Spender: Das mobile Ampullarium ist immer dabei
Ob Hausbesuch oder Notfall-Einsatz – das Dürasol Ampullarium ist sofort zur Stelle. Und mit ihm ist die richtige Ampulle auch gleich zur Hand. Möglich ist das durch das transparente Design der Dürasol Ampullenspender. Man bekommt damit eine praktische, schlagfeste und robuste Box aus strapazierfähigem ABS-Kunststoff, die für Hausbesuche ebenso gut geeignet ist wie für Rettungseinsätze. Praktisches Detail am Rande: Man kann die Ampullarien wunderbar aufeinander stapeln – das spart Platz und ermöglicht dennoch die Mitnahme aller relevanten Ampullen.
Lieferumfang
Dürasol mobiler Ampullenspender für Hausbesuche und Rettungsdienst
Further information
Customer assessment ⦁ Mobile Ampule Dispenser
Der Ampullenspender hält was er verspricht. Am Rand wird ein Klebestreifen innen angebracht, der die Ampullen leicht fixiert. Ampullen unterschiedlicher Grö0e lassen sich platzieren und...