Article successfully added.
Diverse
Syringe Ballpoint Pen
Syringe ballpoint pen that looks like it was just pulled out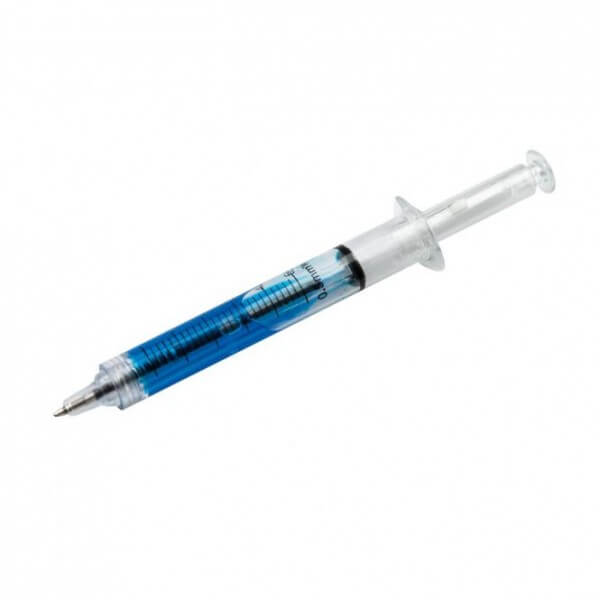 ready for shipment
You will receive your goods between the 20.07.2019 and 24.07.2019
Syringe Ballpoint Pen
Number 5 syringe with red or blue liquid and black/blue ink
red liquid inside looks like it's just been drawn
Sybille says:
"The ballpoint pen is a hit. "Wow" alternates with "yuck." It is hot not only with the office assistants but also with patients and even in the family. It practically delivered itself even before I ordered it I'll be sure to order a couple more.
Further information
Customer assessment ⦁ Syringe Ballpoint Pen
Hab mir den Kugelschreiber ursprünglich eher als Gag gekauft, schlussendlich ist er jetzt aber immer im KH dabei.
1. Bringt er ein bisschen Spaß in die Patientenzimmer
2. funktioniert er...
Kugelschreiber trocknet nach kurzer Zeit aus. Er schreibt gut und kann aber einige Zeit benutzt werden. Deshalb nur ein Stern wegen der sehr schlechten Haltbarkeit.
Diese Stifte ziehen auf jeden Fall die Aufmerksamkeit auf sich.... komischerweise gefallen sie fast jeden der sie bei mir entdeckt und man muß schon sehr aufpassen das sie nicht...
Die Spritze, ähm, den Kugelschreiber habe ich als Geschenk gekauft und beim auspacken und "ihhh"! und "häääh"? geerntet. Danach folgte ein "cool"! Er kommt also wirklich gut an. Als...
Hab drei Stück als Geschenk bestellt und musste zugeben, die Dinger sehen schon recht ulkig aus - wenn sie denn auch heil sind. Bei einem war nämlich die rote Tinte, die den Effekt...
Habe diesen Kugelschreiber als Geschenk für eine bestandene Prüfung erhalten - er sieht verblüffend echt aus - man muss wirklich zweimal hinschauen. Ein witziges Geschenk!
Super Geschenk für Medizinstudenten! Ist der Hit in jedem Seminar, lässt sogar die erfahrendsten Professoren staunen und damit lässt es sich viel leichter kreuzen ;)
Der Kugelschreiber ist der Hit. Begeisterung wechselt sich mit Igitt ab. Er ist
nicht nur bei den Sprechstundenhilfen, sondern auch bei den Patienten und
sogar in der Familie heiß...