Article successfully added.
HARTMANN
Foliodrape protect Arthroscopy Drape
Foliodrape protect arthroscopy drape set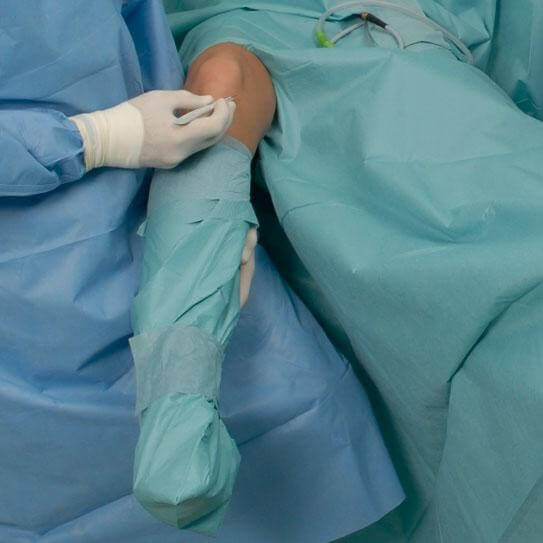 Order number: 157315
Package: 7 piece(s)
Delivery 11 to 15 days
You will receive your goods between the 03.02.2020 and 07.02.2020
Foliodrape protect Arthroscopy Drape
Die Sterilabdeckung mit Foliodrape ist wichtiger Bestandteil einer wirksamen Infektionsprophylaxe im OP. Denn Material, Ausstattung und Anwendungssicherheit ermöglichen bei allen chirurgischen Eingriffen eine zuverlässige und einfache Abdeckung des Patienten und seines Umfeldes.
Damit trägt Foliodrape entscheidend zur Reduzierung des Kontaminationsrisikos bei.
1 Tischabdecktuch, 100 x 150 cm
1 Instrumententischbezug, 80 x 145 cm
1 Extremitätentuch mit elastischer Manschette, 200 x 300 cm
1 Orthopädischer Beinling, 33 x 55 cm
3 OP-Klebestreifen, 10 x 50 cm
1 Kamerakabelbezug, 13 x 250 cm
Foliodrape OP-Abdeckungen besitzen die vorteilhafte Saugfähigkeit von textilen Abdeckungen und sind darüber hinaus komplett flüssigkeitsdicht und keimundurchlässig.
Foliodrape besitzt antistatische Eigenschaften zur Vermeidung von möglichen Beeinflussungen und Manipulationen der apparativen Ausstattung im OP-Bereich.
Und schließlich ist Foliodrape mit den derzeit üblichen Methoden auch einfach zu entsorgen. Das Material kann in der Verbrennungsanlage vernichtet werden, da es ohne schädliche Rückstände verbrennt. Die Foliodrape Abdecksets sind grundwasserneutral, so dass sie im gesetzlichen Rahmen auch auf die Deponie gegeben werden können.
Foliodrape OP-Abdecksets sind frei von Naturlatex. Eine Ausnahme stellen das Foliodrape Urologie-Set I und das Foliodrape Urologie-Set II dar, bei denen die Fingerlinge aus Latex bestehen.
Vorteile von Hartmann Foliodrape
Sicher haftende Klebestreifen an den Foliodrape Abdecktüchern sorgen für eine schnelle und dicht abschließende Fixierung auf der Haut des Patienten und bieten eine wirkungsvolle Keimbarriere. Damit kann die Einwanderung von Mikroorganismen zur Inzisionswunde wirkungsvoll unterbunden werden.
Vor der Fixierung der Klebestreifen ist darauf zu achten, dass der desinfizierte Hautbereich trocken ist, um eine ausreichende Haftung zu ermöglichen.
Die Foliodrape Abdecksets mit ihren Einzelkomponenten sind entsprechend den Erfordernissen der häufig vorkommenden Operationen zusammengestellt und bieten Systematik bei der präoperativen Vorbereitung für nahezu jede Fachdisziplin.
Die Abdecksets sind so gefaltet und in ihrer Reihenfolge zusammengestellt, dass sie problemlos und sicher steril angewendet werden können.
Die Abdeckung kann, wie mit textilen Abdecktüchern, von zwei Personen durchgeführt werden. Bei Personalmangel oder in Notfällen ist es aber auch nur einer Person möglich, mit Foliodrape problemlos unter sterilen Kautelen abzudecken.
Return conditions
This article is excluded from withdrawal.