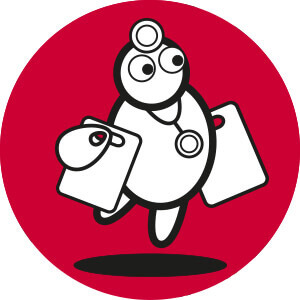 Reclaims, Return and Guarantee
Reclamation
Should you receive a damaged, broken or wrong article, it is with our regret. We will accept the return of the article based on the general terms and conditions of business.
Always return the complete article including accessories and directions. Please enclose a detailed description.
For returning packages please use the included return-label.
Note: Please notify us by Email, within 14 days of receiving an incorrect or damaged delivery, or the return of a rejected article.
Guarantee
Should you want to return an article after the deadline for returning goods within the guidelines of the guarantee or the within that of the manufacture's guarantee, please return the article and a detailed failure description, with the proper postage.
Generally, you can send the product directly to the manufacturer. This can shorten processing time.
DocCheck Shop GmbH
Vogelsanger Str. 66
50823 Köln
Germany
Returns
We accept returned merchandise based on the general terms and conditions of returning goods.
Use for returning articles, within Germany the return label included in your initial delivery. This allows you to return the article free of charge*. Should the return label not be included in your package or it has been misplaced, please contact us.
For out of country returns, that value over a net € 33.61 | gross € 40.00, we will restate the returning costs up to a value of net € 4.10 | gross € 4.88
Address for Returned Goods:
DocCheck Shop GmbH
Dieselstr. 6
50354 Hürth
Germany
*The shipping cost for returned goods under a net value of € 33.61 | gross value of € 40.00, is € 4.88 when the return label is utilized. You can make usage of other shipping methods as well.
Please keep in any case the delivery slip, until all accounts are settled.
Please keep in mind that a returned product can be a few days in transport.