Article successfully added.
3B Scientific
Teaching Charts
Premium printing on photo-quality paper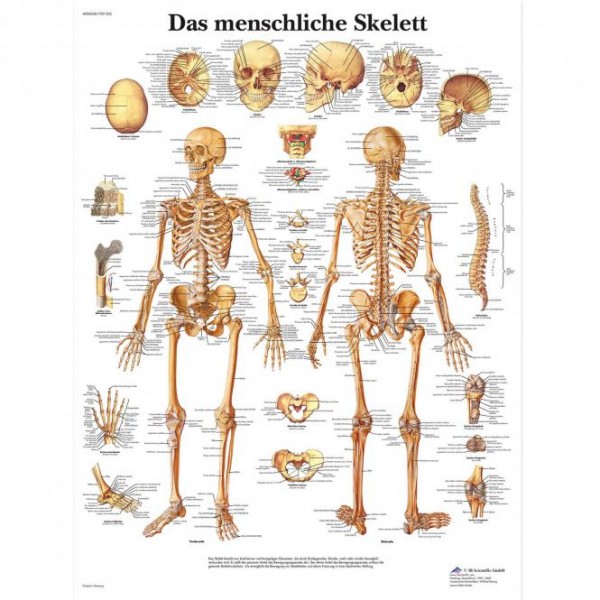 ready for shipment
You will receive your goods between the 27.07.2019 and 31.07.2019
Teaching Charts
premium 200 gram photo-quality printer paper
poster format: 50 x 67cm
we will send posters rolled up

different versions available
the human skeleton
the human musculature
the human spine
the human skull
the lymphatic system
the nervous system
the vascular system
ear acupuncture
foot massage reflex zones
body acupuncture

Further information
Customer assessment ⦁ Teaching Charts
Die Lehrtafel zeigt kleine Infotexte, die Hinweise geben, was mit den einzelnen Gelenken passieren kann, wenn man zu viel den Gelenken zumutet. Auch die erste Hilfe gegen...
Die Lehrtafel ist in 3 Bereiche eingeteilt, die farblich voneinander abgegrenzt sind (Allgemeines, versch. Allergien, 1. Maßnahmen). Die Texte enthalt das Wichtigste für den ersten...
Die Lehrtafel ist in einer angenehmen Größe. Die optische Gestaltung weist auf die wichtigsten Sachen hin und zeigt, was zusammen gehört bzw. das Gleiche darstellt. Die Infotexte könnten...
Sehr sinnvoll und immer wieder nützlich in der Lernphase und auch danach als Hingucker oder "Spicker"in der Praxis. Übersichtlich auf dern ersten Blick. Praktisch!!!!
Sensibilisierung, hilfreich bei jung und alt.
Gute Darstellung, die oft für das Patientengespräch herangezogen wird.
Im Sommer gerne gesehen...... Empfehlenswert
Dies Poster hilft auch prophylaktisch, in dem Patienten sensibilisiert werden. Empfehlenswert
Im Chiropraktik Bereich gerne gesehen und für Erläuterungen genutzt. Empfehlenswert
Sehr schönes Produkt, das bei Patienten auf reges Interesse stösst. Empfehlenswert.