Article successfully added.
Median cut nose halves on tripod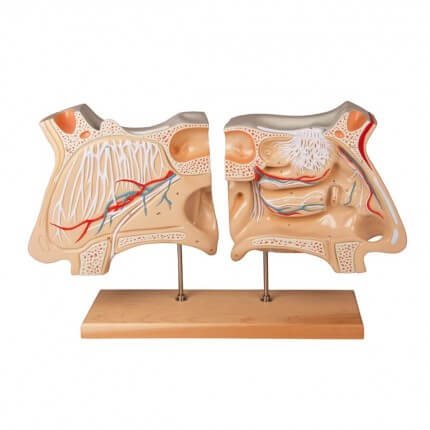 Order number: 303212.3
Package: 1 piece(s)
Delivery 8 to 11 days
You will receive your goods between the 16.12.2022 and 20.12.2022
Model nose and olfactory organ from Erler-Zimmer
The Erler-Zimmer model shows the human nose and olfactory organ. For better visualization, the halves of the nose can be unfolded from the base of the skull to the palate. This makes the internal structures even more visible. The model is suitable for demonstration purposes in lectures as well as for explaining findings or therapies in the practice.
Product details
Structures of the model are numbered
Can be opened for a better view of the interior
Representation of the following structures:
- nasal septum with vessels and nerves
- inner nasal cavity
- paranasal sinuses and opening of the Eustachian tube
Mounted on tripod - movable
Dimensions: 52 x 13 x 30 cm
Weight: 3 kg
Scope of delivery
1 Erler room Model nose and olfactory organ
1 info sheet (English)