Article successfully added.
For cleaning instruments at low temperatures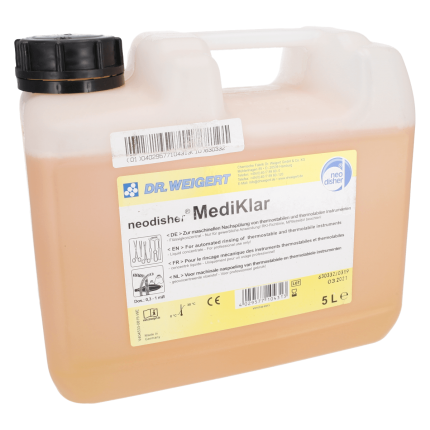 Article ID: 112457
Package: 5 l
Item in stock
You will receive your goods between the
10.06.2023
and
14.06.2023
neodisher MediClean from Dr. Weigert
Reliable cleaning agents are essential in everyday clinical practice. With neodisher MediClean, you can ensure thorough manual or mechanical reprocessing of your medical utensils. It reliably removes blood residues and is suitable for all common instrument materials.
neodisher MediClean - At a glance
Cleaning agent for reprocessing thermostable and thermolabile instruments
Liquid concentrate
For cleaning medical utensils
High degree of material protection
No neutralization step required for machine reprocessing
neodisher MediClean - Reliable cleaning
neodisher MediClean can be used for both manual and machine reprocessing of surgical instruments, endoscopes, anesthetic equipment and containers. It is suitable for instruments and utensils made of stainless steel, instrument steel, common plastics as well as materials of optics and anesthetic utensils.
Due to its composition, neodisher MediClean reliably removes residues of dried, denatured blood and blood hardened by disinfectants. It thus ensures that your instruments are ready for use again as quickly as possible.
Due to its chemical composition, responsible handling of neodisher MediClean is necessary. Dangers and safety instructions are listed in the safety data sheet on this page.
Intended use
Detergents and cleaning agents (including solvent-based products)
Scope of delivery
1 canister neodisher MediClean
Safety instructions for hazardous substances:
EUH208 – Contains cis-1-(3-Chlorallyl)-3,5,7-triaza-1-azoniaadamantane chloride, mixture of: 5- chloro-2-methyl-2H-isothiazol-3-on [EC No 247-500-7] and 2-methyl-2H- isothiazol-3-one [EC No 220-239-6] (3:1). May cause allergic reactions.
EUH210 – Safety data sheet available on request.