Article successfully added.
SCHUPP
Day-Planner
day planner for 15 or 20 minute increments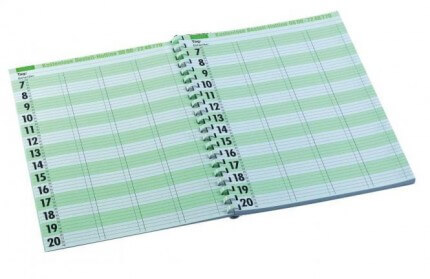 Order number: 300406.1
Package: 1 piece(s)
ready for shipment
You will receive your goods between the 24.09.2020 and 28.09.2020
Current information on the delivery situation:
Due to the tense situation caused by the Covid-19 eruption, there may be occasional delays in delivery. We have adjusted the capacities of our logistics accordingly, so that we can largely meet the indicated delivery dates.Medical facilities and doctors are supplied by us with priority. We do not supply resellers. Thank you for your understanding!
Day-Planner
Individually modifiable as week- or day-planner
endless year-calendar
appointment incrementation from 7 to 21 o'clock
Customer assessment ⦁ Day-Planner
-
Einer (der 2)Terminplaner ist zerknittert angekommen-schade..
Ansonsten ist der Planer gut für meine Zwecke!
mfG Dr Gaby A****
P-S- ICh möchte mich den vorherigen Kommentaren anschliessen
-
Sehr schöner, übersichtlicher und preiswerter Terminplaner. Macht einen sehr robusten Eindruck, so das er wahrscheinlich auch am Ende des Jahres nicht auseinanderfällt.
-
Der Terminplaner kann als Tages oder Wochenkalender eigesetzt werden. Er ist sehr praktisch, übersichtlich und sehr gut gebunden. Das Papier ist fest und sieht auch nach einem Jahr im...
-
Dieser Terminplaner ist unglaublich gut geeignet, um Termine für die logopädische Therapie einzutragen.Durch die vielen Spalten können sich auch mehrere Kollegen mit eintragen, so dass...
-
Preisgünstiger Terminplaner mit ausreichend Platz in den einzelnen Zeilen und Spalten. Durch die eigenhändige Datumseingabe flexibel über das ganze Jahr einsetzbar.
-
Habe mir den Planer für meine Prüfungsvorbereitung geordert und bin sehr zufrieden. Die Aufmachung ist gut und besonders die freie Datums- und Zeiteinteilung ist sehr nützlich. Lässt sich...
-
Der Terminplaner ist übersichtlich und einfach in der Handhabung. Er kann sowohl als Tages als auch als Wochenkalender benutzt werden und ist somit Individuell einsetzbar.