Article successfully added.
3M
Reddot-Electrodes
Electrodes for the special demands on diagnostic ECG-monitoring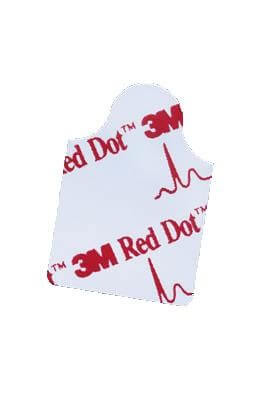 Order number: 187589
Package: 100 Stück
Delivery 10 to 14 days
You will receive your goods between the 26.10.2019 and 31.10.2019
Reddot-Electrodes
This innovative electrode makes life easier. The new 3M Red Dot 2560 ECG-Electrode was designed specifically for the various ECG-demands, such as i.e. in the operating room, emergency, catheter-laboratory, or in intensive-care.
Because of its high wearing-comfort and extraordinary skin-compatibility, the 3M Red Dot 2560 ECG-Electrode can remain applied up to 5 days.
the reliable foam material and the high-performance adhesive gel provide thorough skin-contact and lasting ECG-transmission.
high transmission-quality for various ECG demands, combined with extraordinary skin-compatibility
the optimal solution for standardization
reduces the number of different ECG-Electrodes
up to 5 day wear
no daily change necessary
simple handling: 30 days freshness-guarantee with opened bag, and the handy dispenser-strips with 10 electrodes each, offer easy handling
X-ray transparent: ideal for standardization - the new 3M Red Dot ECG-Electrode is also available with X-ray transparent head
Brand: 3M
Customer assessment ⦁ Reddot-Electrodes