Article successfully added.
DocCheck PJ/U course set "Lausch ultra
The complete equipment for PJ and U-course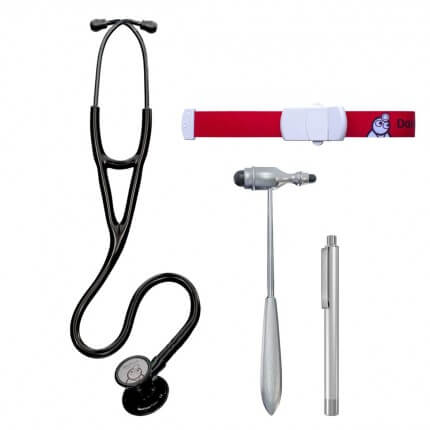 Article ID: 100013.4
Package: 1 piece(s)
Delivery 6 to 9 days
The delivery will take place between the
07.10.2023
and
11.10.2023
PJ/U course set "Lausch ultra from DocCheck
With the PJ/U-course set DocCheck "Lausch ultra" you are ready for the U-course or your internship year! The set contains everything you need as a future doctor and should always have in your pocket: Stethoscope, reflex hammer, diagnostic light and vein tourniquet. So that you are immediately equipped, the articles are in the set price around a lot more favorably than with the laborious single purchase. Therefore no further student discount is deducted here.
Product details
DocCheck stethoscope "Lausch ultra": stainless steel double-head chestpiece, double tube system, two ultra-sensitive membranes
DocCheck reflex hammer "Klopp": Neurological grip tip for triggering stretch and skin reflexes, with metal handle
DocCheck LED diagnostic light "Blink": Energy-efficient LED illumination, robust metal housing, with clip
DocCheck vein tourniquet "Zurr": flexible tourniquet for one-handed tourniquet
Please note that only the stethoscope will be engraved if engraving is requested
The stethoscope is available in different tube colors
PJ/U course set "Lausch ultra" - Train in style
The DocCheck stethoscope "Lausch ultra" has been specially developed to meet the highest demands and features excellent acoustics for auscultation. The high-quality stainless steel double-head chestpiece offers a high degree of reliability and the classic design is complemented by high wearing comfort. This stethoscope will not let you down even in demanding missions.
The DocCheck Reflex hammer "Klopp has two different rubber inserts at the head ends and a neurological grip tip. The special feature of the Troemner reflex hammers is the relatively heavy hammer head, which makes them particularly easy to use. With the help of gravity, you can always apply blows of the same strength and thus obtain comparable results.
The practical DocCheck LED diagnostic light "Blink" is the perfect companion in the U-course or the PJ thanks to its handiness and low weight. With its energy-efficient LED illumination, it is particularly well-suited for eye and throat diagnostics, while being made of easy-to-clean, robust metal.
The DocCheck Vein tourniquet "Lash" is a high-quality tourniquet that is ideal for one-handed tourniquet use during blood collection. The tourniquet is an important tool that every medical professional should have in their lab coat pocket and is indispensable for injections and infusions.
Scope of delivery
1 DocCheck stethoscope "Lausch ultra" in the selected tube color
1 DocCheck reflex hammer "Klopp" in silver
1 DocCheck LED diagnostic light "Blink" in silver
1 DocCheck vein tourniquet "Zurr
Further information