Article successfully added.
OrthoHeal FlexiOH Immobilizer Orthese – Thumb Spica
Light-curing cast bandage for immobilization of the thumb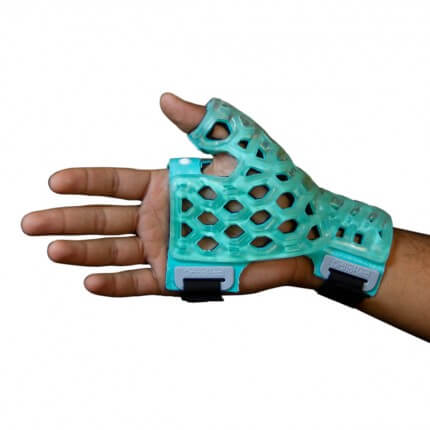 SKU: 102123.0
Package: 1 piece(s)
Item in stock
The delivery will take place between the
08.12.2023
and
12.12.2023
FlexiOH Immobilizer Orthese – Thumb Spica from OrthoHeal
The OrthoHeal FlexiOH Immobilizer orthosis is an innovative cast for immobilization of the thumb of the left or right hand. Thanks to its sophisticated design, the light-curing orthosis is equally suitable for immobilizing non-displaced scaphoid fractures, tendovaginitis and fractures of the first metacarpal bone. The cast is easy to apply, closes quickly with snap fasteners and elastic loops, and sets in minutes.
The result is a circular, form-fitting stabilization of the fracture. Thanks to the advanced mesh structure, almost half of the skin surface is exposed. This makes itchy, hard-to-reach areas a thing of the past. In addition, unlike plaster casts, FlexiOH can be worn continuously without any problems during washing, showering and even swimming. Thus, OrthoHeal immobilization is an air-permeable and waterproof alternative to conventional bandages.
Product details
Light-curing cast bandage for immobilization of the thumb
Reliable immobilization for scaphoid fractures and tendovaginitis
Ideal for treating uncomplicated, non-displaced fractures
Moldable, lightweight mesh structure
Easy to put on and take off with elastic loops and snaps
Fast curing under UV light in 3 to 5 minutes
Cure with sunlight or RizyCure light unit (sold separately)
No restrictions in everyday life, can also be worn in the shower and while swimming
Waterproof and fast drying
46% exposed skin area - air permeable and breathable
Foam padded interior for comfortable wear
Symmetrical design for use on the left and right hand
Material: silicone elastomer, nitrile rubber foam, light-cure resin
Latex free
Available in different sizes
The new generation of orthopedic immobilization
For uncomplicated care of fractures and sports injuries of the limbs, FlexiOH technology offers more than just reliable immobilization. As a contemporary alternative to plaster and cast bandages, the flexible and slightly stretchable plastic material fits snugly around the hand and can be easily closed thanks to press studs and elastic loops. With the help of UV light, the innovative material of the cast bandage is cured in just a few minutes - simple sunlight or the RizyCure LED light device specially designed for FlexiOH (available separately) is suitable for this purpose. The built-in zipper allows the splint to be easily reopened after the treatment period and removed quickly and painlessly.
3 versatile sizes
The sizes of the FlexiOH orthosis differ in palm, wrist and thumb circumference. After measuring the hand, it is easy to select the appropriate splint.
Palm circumference

16 cm (S)
18 cm (M)
23 cm (L)
Wrist circumference

15 cm (S)
16 cm (M)
21 cm (L)
Thumb circumference

5.5 cm (S)
6,5 cm (M)
8,5 cm (L)
Scope of delivery
1 OrthoHeal FlexiOH Immobilizer Orthosis - Thumb Spica in the selected size
Return policy
This item is not eligible for returns.

For consumers, the right of withdrawal does not apply to contracts for the delivery of sealed goods that are not suitable for return for reasons of health protection or hygiene if their seal has been removed after delivery.