Article successfully added.
Resorbable polydioxanone with needle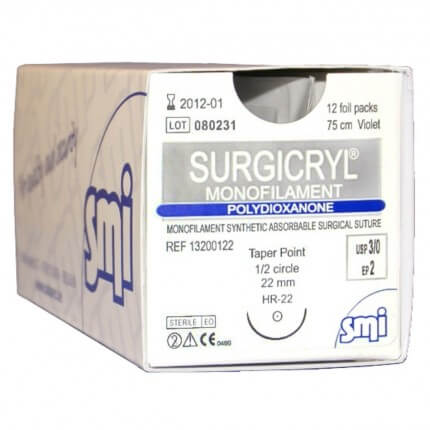 Article ID: 102727.1
Package: 12 piece(s)
Item in stock
You will receive your goods between the
02.06.2023
and
06.06.2023
Surgicryl Monofilament Nahtmaterial from SMI
SMI Surgicryl Monofilament Suture is a needle-thread combination with a flexible, tear-resistant synthetic fiber that is slowly absorbed. The monofilament has a microscopically uniform diameter and provides smooth tissue passage without sawing effect. It features minimal tissue reaction without capillary action, inhibiting bacterial growth. The ready-to-use needle-thread combinations are available in various needle and thread strengths.
Product details
Absorbable suture material
Atraumatic needle-thread combination
Synthetic thread for minimal tissue reaction
No capillary action - no promotion of bacterial growth
Durable tear resistance for extended tissue retention
Resorption by hydrolysis
Pliable and supple for easy knotting
No sawing effect for low tissue trauma
Indications: Soft tissue adaptation and/or ligation, general surgery, visceral surgery, ophthalmology, orthopedics, abdominal wall closure, gynecology, plastic surgery, urology
Thread type: Monofilament, absorbable
Color: Purple
Material: Polydioxanon, a polymer of poly (p-dioxanon)
Coating: none
Tensile strength (50 %): after approx. 42 days
Resorption (100 %): approx. 180 to 210 days
Box with 12 threads
Individually airtight sealed
Sterile
Available in different variants
Scope of delivery
1 pack of SMI Surgicryl monofilament sutures of 12 pieces in the selected version
Return policy
This item is not eligible for returns.
Brand: SMI