Article successfully added.
Non-absorbable monofilament with needle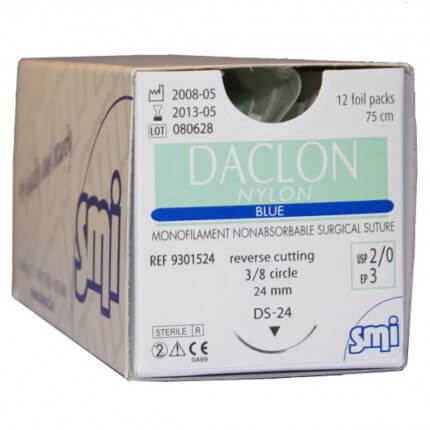 Article ID: 102728.2
Package: 12 piece(s)
Item in stock
You will receive your goods between the
02.06.2023
and
06.06.2023
Daclon Nahtmaterial from SMI
The non-absorbable Daclon suture material from SMI is a monofilament made of nylon. Permanent tissue retention with minimal tissue reaction facilitates durable wound closure in many surgical disciplines. The suture is encased in connective tissue and degrades at a rate of approximately 10% per year. The flexible suture material has a pliable tissue pull-through as well as very good handling and knot-slip properties. Ready-to-use needle-thread combinations are available in a variety of needle and thread strengths.
Product details
Non-absorbable suture material
Atraumatic needle-thread combination
Synthetic thread for minimal tissue reaction
Monofilament with microscopically uniform diameter
No capillary action - no promotion of bacterial growth
Excellent knot-slip properties
Smooth tissue traction without sawing effect and trauma
Fields of application: Adaptation of soft tissues and/or ligation, general and plastic surgery, skin closure, visceral surgery, gynecology, obstetrics, orthopedics, ophthalmology
Thread type: Monofilament
Color: Blue or black
Material: Extrusion of polyamide 6.0 or 6.6 (nylon)
Coating: none
Resorption: non-absorbable, becomes coated by connective tissue over time, reduction of suture substance by hydrolysis by approx. 10% per year
Box with 12 threads
Individually airtight sealed
Sterile
Available in different variants
Scope of delivery
1 package SMI Daclon suture material à 12 pieces in the selected version
Return policy
This item is not eligible for returns.
Brand: SMI