Article successfully added.
Bandaging contents for bandage-cabinets and first-aid cases after DIN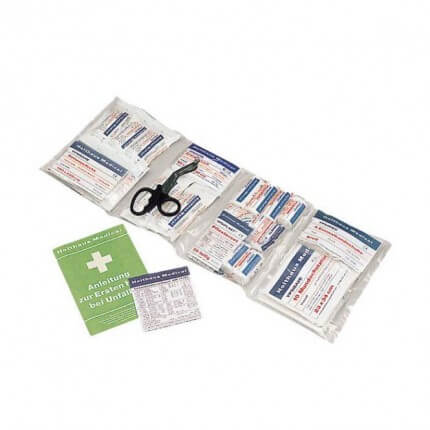 Order number: 183904
Package: 1 piece(s)
Item in stock
You will receive your goods between the 03.11.2021 and 06.11.2021
Bandaging-Contents after DIN from Holthaus Medical
According to Accident-Prevention Regulations and their execution guidelines, depending on type and size of business, first-aid equipment is to kept at hand. This includes containers with contents according to DIN 13 169 and DIN 13 157, which also contain sterile products.
contents for bandaging-kits and first-aid cases
72-piece after DIN 13157 or 140-piece after DIN 13169
Sterile products always require gentle handling and careful storage.
First-aid containers by Söhngen are exemplarily suited for this.
Commercial bandaging-cases for businesses must meet the following requirements:
administration to 50 employees, manufacturing to 20 employees, construction sites to 10 employees require DIN 13157.
With greater employment numbers, as case/bandage-kit with DIN 13169 contents is required. Alternatively, 2 cases with DIN 13157.
Return conditions
This article is excluded from withdrawal.
Customer assessment ⦁ Bandaging-Contents after DIN
Rate this article
Evaluations will be activated after verification.
-
Für faule Menschen absolut geeignet - alles, was man braucht, um eine kleine Verbandstasche mal schnell neu zu befüllen (meist ist das Haltbarkeitsdatum der alten Füllung überschritten)....
-
Alles gut verpackt, beschriftet und inkl. Auflistung. Mit dabei ist auch eine Anleitung für Sofortmaßnahmen die aber leider zum Teil veraltet ist (bspw. CPR Algorithmus mit CPR 15 zu 2....