Article successfully added.
Philips SMART-Pads II Electrode Cartridge for FRx Defibrillator
The smart defibrillator pads for your HeartStart FRx from Philips.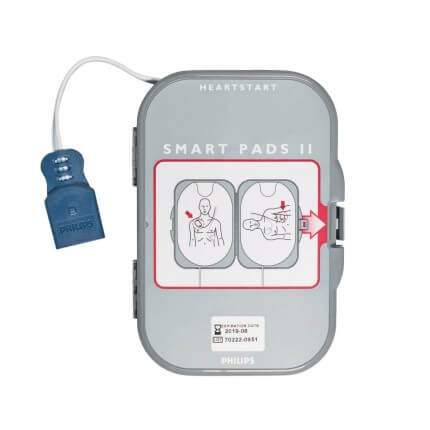 Article ID: 294595
Package: 1 piece(s)
Item in stock
The delivery will take place between the
07.10.2023
and
11.10.2023
SMART-Pads II Electrode Cartridge for FRx Defibrillator from Philips
The self-adhesive Philips SMART Pad electrodes are suitable for adults or all persons over 25 kg body weight for defibrillation. The multifunctional replacement electrodes are accessories for the HeartStart FRx defibrillator and have a long shelf life.
Product details
Set of self-adhesive replacement electrodes
Suitable for the Philips HeartStart AED FRx
Also suitable for Philips HeartStart FR2 / FR2+
Preconnected SMART Pads with connection cable
For persons from 25 kg
Also suitable for children under 8 years (when using a child key)
Self-adhesive gel electrodes
Skin friendly adhesive
With application pictogram on the pad
Latex-free
Storage temperature: 0 - 50 °C
Universal replacement electrodes for the AED Heartstart FRx
The SMART Pad electrode pair is well protected in a sturdy cassette and already prepared with a connection cable. Therefore, the electrodes can be quickly connected to the Heartstart FRx defibrillator. The placement of the adhesive electrodes for cardiopulmonary resuscitation is shown as an easy-to-understand drawing on the cassette and the pads.
The SMARTe: The pads "know" they are attached to the patient and prompt the HeartStart to provide the appropriate voice instructions for resuscitation. The pads are intended for defibrillation of adults or people weighing more than 25 kg. The SMART-Pads II can also be used for children under 8 years of age if a child key is also used for the device.
The cassette form with the airtight packed gel electrodes has a long shelf life and a wide temperature range for storage.
Scope of delivery
1 pair of Philips HeartStart FRx SMART Pads
Return policy
This item is not eligible for returns.

For consumers, the right of withdrawal does not apply to contracts for the delivery of sealed goods that are not suitable for return for reasons of health protection or hygiene if their seal has been removed after delivery.