Article successfully added.
With monitoring equipment for controlled monitoring of vital data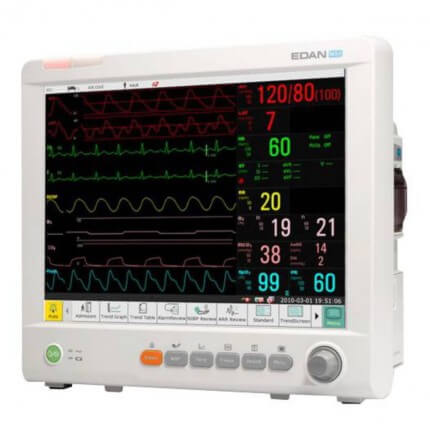 Order number: 300126.1
Package: 1 piece(s)
Delivery 24 to 27 days
You will receive your goods between the
03.05.2023
and
06.05.2023
iM80 Surveillance Monitor from EDAN
The EDAN iM80 Monitoring Monitor is a vital data monitor for controlled monitoring of comprehensive measurement parameters - in curve progressions, tables and individual trend charts. For extra safety, the intelligent system has an integrated arrhythmia and ST segment analysis. Thus, the iM80 patient monitor not only provides a comprehensive overview of various vital data, but also a detailed insight into the patient's cardiac functions - ideal for any operating room, post-anesthetic monitoring and monitoring in intensive care. The reliably determined data can be easily transferred to a PC via SD card and USB or VGA output.
Product details
All-in-one patient monitor for monitoring vital signs
Comprehensive monitoring of the most important parameters: ECG,SpO2, NiBP, temperature and respiratory rate
Ideal for operating rooms, for post-anesthetic monitoring and in intensive care
Clear display in curve progressions, tables and individual trends
Real-time display of up to 13 vital parameters
Optimized algorithms for analysis of ECG, blood oxygen saturation and blood pressure
Pacemaker detection and integrated defibrillation protection
Arrhythmia and ST segment analysis
High-resolution TFT display with touchscreen and 15″ screen diagonal
Colored status lights, clear quick keys and physical selection wheel
2 slots for invasive blood pressure (IBP) measurements
Data transfer via SD card, USB and VGA output
Suitable for stationary mains and mobile battery operation
Compatible with separate wall mount or rolling stand
Incl. blood pressure cuff, skin temperature probe,SpO2 finger sensorand ECG cable
Dimensions: L 37 × W 17.5 × H 32 cm
Weight: < 7 kg
Optionally available with thermal printer
Versatile monitoring with the EDAN iM80 vital signs monitor
The versatile EDAN iM80 consists of a reliable monitor and associated equipment to combine the widest possible range of monitoring parameters in one system. In doing so, the monitoring includes a complete display of the most important vital signs - ECG,SpO2, NiBP, temperature and respiratory rate. Thanks to the included patient cables and sensors, reliable all-in-one monitoring becomes possible.
Since the EDAN iM80 monitor can be powered by a powerful rechargeable battery, patient monitoring can even be done on the go. This is facilitated by the separately available rolling stand. The EDAN iM80 vital sign monitor is also ready for use when stationary. The monitor can be supplemented with an optional wall mount. This makes the system versatile and ready for use at any time.
Scope of delivery
1 EDAN iM80 monitoring device
1 blood pressure cuff for adults
1SpO2 finger sensor
1 skin temperature probe
1 3-channel ECG cable
30 push button electrodes
1 NiBP tube
1 USB cable
1 rechargeable battery
1 power cord
The product is subject to instruction in Germany according to MPBetreibV. The instruction is not included in the price.
An instruction with costs by the manufacturer is possible after arrangement. Please contact us for further information.
Return policy
This item is not eligible for returns.
Further information