Article successfully added.
SÖHNGEN
Snakebite Kit
Effective immediate action set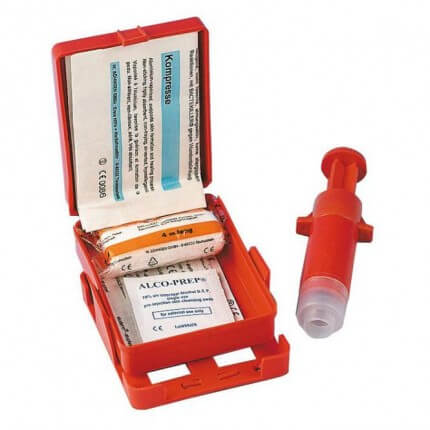 Order number: 200138.0
Package: 1 piece(s)
ready for shipment
You will receive your goods between the 24.09.2020 and 28.09.2020
Current information on the delivery situation:
Due to the tense situation caused by the Covid-19 eruption, there may be occasional delays in delivery. We have adjusted the capacities of our logistics accordingly, so that we can largely meet the indicated delivery dates.Medical facilities and doctors are supplied by us with priority. We do not supply resellers. Thank you for your understanding!
Snakebite Kit
Snakebite kit. Plastic box with wall holder, orange color. Contains a highly effective mini suction pump for single-handed use on oneself, as well as a small scalpel, alcohol swabs, compresses, bandage and band-aids.
for treating bites of poisonous reptiles, spiders or scorpions
Measurements: 100 x 80 x 30 mm

Customer assessment ⦁ Snakebite Kit
-
Sollte man nicht anwenden. Widerspricht den Empfehlungen
Bei Biss nie manipulieren, sondern sofort immobilisieren. Manipulationen an der Bissstelle können den Verlauf negativ...
-
Ich finde die Box praktisch und kompakt, aber leider gibt es nur für die Absaugpumpe eine Gebrauchsanweisung.Utensilien wie Skalpell, Mullbinde und Alkoholtupfer hat man vielleicht auch...