Article successfully added.
Effective immediate action set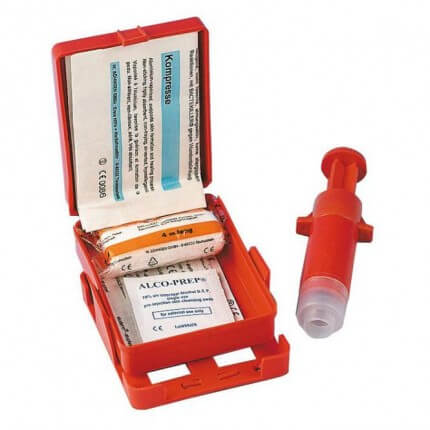 Order number: 200138.0
Package: 1 piece(s)
This item is not available
Snakebite Kit from SÖHNGEN
Snakebite kit. Plastic box with wall holder, orange color. Contains a highly effective mini suction pump for single-handed use on oneself, as well as a small scalpel, alcohol swabs, compresses, bandage and band-aids.
for treating bites of poisonous reptiles, spiders or scorpions
Measurements: 100 x 80 x 30 mm

Return conditions
This article is excluded from withdrawal.
Customer assessment ⦁ Snakebite Kit
Rate this article
Evaluations will be activated after verification.
Sollte man nicht anwenden. Widerspricht den Empfehlungen
Bei Biss nie manipulieren, sondern sofort immobilisieren. Manipulationen an der Bissstelle können den Verlauf negativ...
Ich finde die Box praktisch und kompakt, aber leider gibt es nur für die Absaugpumpe eine Gebrauchsanweisung.Utensilien wie Skalpell, Mullbinde und Alkoholtupfer hat man vielleicht auch...