Article successfully added.
ATMOS ATMOS C 451 Surgical aspirator
Portable suction unit with direct docking system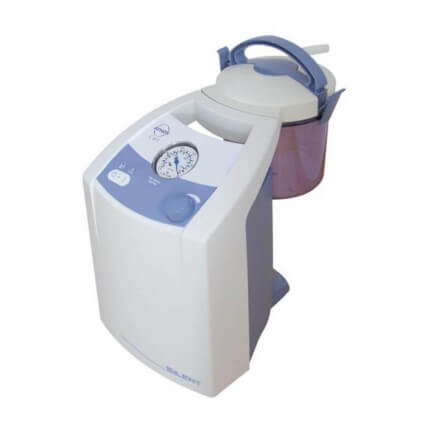 Article ID: 120682
Package: 1 piece(s)
Delivery 16 to 19 days
You will receive your goods between the
27.06.2023
and
30.06.2023
ATMOS C 451 Surgical aspirator from ATMOS
The ATMOS C 451 surgical aspirator is used for fast and reliable aspiration of body secretions and irrigation fluids, ensuring a clear view for the physician. The surgical aspirator can be used in various areas, such as surgical aspiration, surgical intensive care and hospital wards, emergency rooms or even doctors' offices.
Product details
Portable secretion aspirator for oral and tracheal aspiration
With Direct Docking System (DDS) for easy separation of container, filter and suction hose from the unit
Stepless vacuum regulation with instant vacuum build-up
Wear- and maintenance-free double-head diaphragm pump
Continuous suction capability
Whisper-quiet operation for pleasant working conditions
Suction capacity: 45 l/min +3/-5 l/min
Vacuum: -91 kPa ( -910 mbar or 682.5 mmHg)*@ NN
Hose connections: ø 6 mm or ø 10 mm
Operating time: > 12 h continuous operation without interruption, within 24 h
Heat output: max. 173 J/s
Secondary air control: mechanical control valve
Weight: approx. 6.7 kg (with secretion canister)
Noise level: ≤ 48 dB (A) @ 1 m (ISO 7779) at max. vacuum
Operating temperature: +5 to +35°C
Powerful, reliable and quiet - the professional surgical suction unit
The ATMOS C 451 aspirator brings high suction power to aspirate for easy removal of blood or other fluids. The heart of the secretion aspirator is the powerful pump, which delivers its suction power as soon as the device is switched on. The professional surgical aspirator is particularly suitable for continuous use in the operating room and impresses with its simple and intuitive handling.
The sophisticated Direct Docking System (DDS) allows the septic fluid jar to be attached directly to the ATMOS C 451, which means fewer hose connections - for optimum septic fluid jar management. A clearly visible manometer for individual setting of the vacuum also guarantees easy handling and reduces user errors. The stepless vacuum regulator without secondary air valve enables a loss-free vacuum to be built up. The low noise level contributes to a more positive working atmosphere.
The overflow protection and bacteria filter make the unit reliable and hygienic. The special design of the swirl insert at the base of the hose reduces foam formation so that filter life is extended.
In addition, easy cleaning is part of the ATMOS progamme - for perfect hygiene in sensitive hospital areas, all parts are designed for quick replacement and easy cleaning and disinfection.
The ATMOS C 451 can be used in any room and is easy to transport.
Scope of delivery
1 ATMOS C 451 surgical suction unit
1 DDS container 3 l
1 DDS system container lid
1 DDS container carrying handle
1 DDS spray cloth
1 DDS hose adapter set
1 DDS container hose holder
1 DDS suction hose, length 2 m
10 DDS bacteria filter with integrated oversuction stop
1 Mains connection cable
1 instruction manual