Article successfully added.
Especially small and high-performing suction pump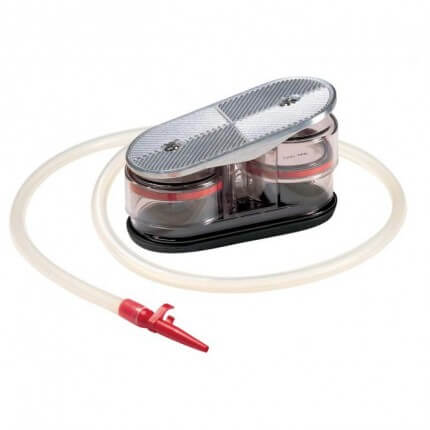 Order number: 235040
Package: 1 piece(s)
This item is not available
TwinPump Suction Pump from Ambu
The Ambu TwinPump is distinguished by its unique dual chamber system. This guarantees a maximum even flow of 70 liters / minute and a steady vacuum for pharyngeal and tracheal suctioning in emergency situations. It is not necessary to change the catch basin during use, since the TwinPump has an overflow through which excess secretions can be diverted without interfering with its functioning.
rugged foot and hand suction pump
compact size and low weight

can be used daily
autoclavable to 121 °C
unique, proven dual chamber principle
creates the vacuum in a short time and ensures a steady flow
will function under the most difficult conditions

600 ml catch basin with overflow valve
fits in the emergency bag
The TwinPump is extremely robust and can be operated optimally either by hand or foot. It is easy to disassemble and clean after use. The removable suction tip is adapted to receive all common suction catheters.
Technical Data
Vacuum
600 mm Hg
Dimensions
206 x 96 x 104/146 mm (L x W x H)
Weight
1,100 g
Catch basin
600 ml
Max. Flow
70 liter/minute
Product
Base Plate
Thermoplastic rubber (TPR)
Manifold pipe
Polypropylene
Seals, gaskets and valve diaphragms
Silicone rubber
Piston rings
Teflon
Footpedal
Aluminum
Other metal parts
Nickel-finish brass and stainless steel
Suctiontips
Acetal
Suction tube
Silicone rubber
Transparent plastic parts
Polycarbonate