Article successfully added.
compact emergency suction pump for occasional use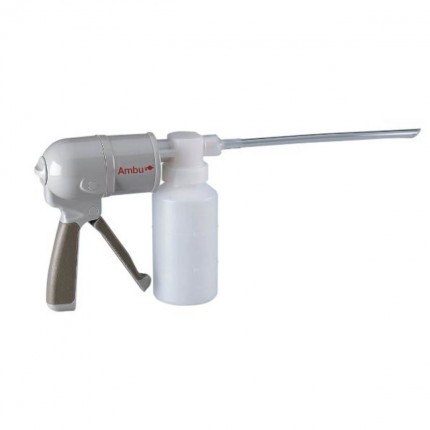 Order number: 291848
Package: 1 piece(s)
This item is not available
Res-Cue Pump from Ambu
The Res-Cue Pump is a manual suction device for fast and effective emergency suctioning of the esophagus and trachea. The pump is very light and space-saving. Therefore, it is particularly well suited as a mobile emergency device in practices and for first responders. The pump can be operated with one hand, making it easy to use. The disposable parts such as the container and suction catheter are easy to replace.
Res-Cue Pump - At a glance
For aspiration of the trachea and esophagus
Convenient one-hand operation via pump lever
Reusable emergency device
Secretion canister and tubing are disposable
No regular maintenance necessary
Suitable for adults and children
Collection container with overflow protection
Incl. disposable container, two catheters and two adapters
Vacuum: 450 mmHg
Variable suction power: 50% (for children) and 100% (for adults)
Operating temperature: -20°C to +50°C
Max. Flow: Peak > 20 l/min
Volume of disposable collection container: 300 ml
Dimensions: 185 x 64 x 168 mm
Weight: 230 g
The details
The Res-Cue Pump is used for quick suction. The disposable container has an overflow protection. This prevents the splashing of liquids, so that no contamination occurs. The manual pump creates a vacuum, which provides the suction. The vacuum is created by pulling the lever and can be varied by 50% by simply turning a knob. This allows it to be used at a lower power for children. The pump can be operated one-handed and requires little effort. This makes it easy to handle and can be used quickly in case of emergency.
Scope of delivery
1 Res-Cue Pump
1 disposable container
2 suction catheters (6 and 13 mm)
1 adapter for fingertip connection
1 adapter for suction catheter