Article successfully added.
Larynx tubus for intubation without laryngoscope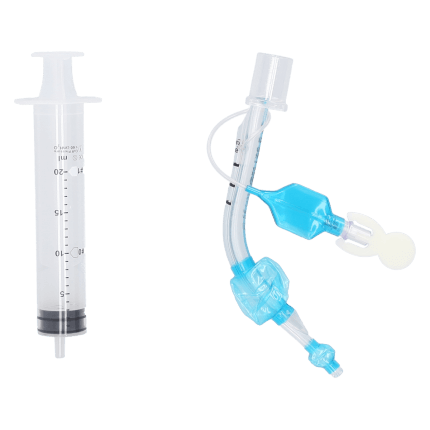 Order number: 32-06-100-1
Package: 1 piece(s)
Item in stock
You will receive your goods between the 23.10.2021 and 27.10.2021
Larynx-Tubus LTS-D from VBM Medizintechnik
Larynx Tube provides supraglottal air passage for spontaneous or positive pressure breathing and is used during general anesthesia.
It is an ideal means for keeping the airway open in an emergency.
Connectors and syringe are color-coded, the approximate fill volumes for each size are marked on the syringe, to enable rapid ventilation. The Larynx Tube's shape and design ease blind insertion and positioning.
For single use, comes in a sterile package, made of PVC.
Product contents
one tube
one blocker syringe
one bite block

Return conditions
This article is excluded from withdrawal.
Further information
Customer assessment ⦁ Larynx-Tubus LTS-D
Rate this article
Evaluations will be activated after verification.
-
Tubus kam wie bestellt - allerdings recht lange Lieferzeit. Ich verwende diesen Larynx-Tubus praktisch ausschließlich für den etwaigen Notfall und führe Ihn im Privat-PKW zusammen mit...
-
Für den/diejenigen die keine Dauerintubierer sind ein schlaue einfache Lösung um nicht ganz hilflos dazustehen, wenn jemand z.B. im Notdienst oder in der Praxis intubiert werden sollte.
-
Larynx-Tuben sind für unsere Notfallpraxis ideal: die Kollegen intubieren eben nicht jeden Tag, die Applikationsweise ist wesentlich sicherer als die intratrachealen Tuben....
-
Bisher "zum Glück" nicht gebraucht, jedoch auf diversen Notfallkursen schon oft gesehen.....eine intelligente und preiswerte Lösung für alle, die gute erste Hilfe leisten wollen und Angst...
-
Possitiv: Der Artikel entspricht der Beschreibung und ist in einwandfreien, verwendbaren Zustand. Auch das Zubehör und die Beschreibung kann man nur als sehr gut bezeichnen.
Preis-,...
-
Zunächst möchte ich bemerken, dass der LT-T für meine private Notfalltasche gedacht ist. Aus beruflicher Sicht (Rettungsdienst) kann ich sagen, dass der LT-D hervorragend als alternative...
-
Selbst zum Glück noch nicht gebraucht, überzeugte mich der Tubus in der Ausbildung und auf Fortbildungen. Ich hoffe, dass er mir wenn ich ihn brauchen sollte, GUte Dienste leisten wird.
-
Larynx-Tubus in guter Qualität zu einem angemessenen Preis-Leistungs-Verhältniss. Optimal zur schnellen und komplikationsarmen Sicherung der Atemwege insbesondere auch in Notfallsituationen.
-
Als Ergänzung für die Notfalltasche durchaus zu empfehlen. Man weiss ja ausserdem nie ob man es nicht mal brauchen kann. Lieferung erfolgt in einer etwas zu groß geratenen Schachtel.
-
Da ich als Hausarzt im Schnitt nur alle 3 Jahre einmal intubieren muss, ist ein einfaches System für mich wichtig. Der o.g. Tubus wurde mir empfohlen und ich werde seine Anwendung diesen...
-
Da ich als Hausarzt nur ca. alle 3 Jahre mal im Notdienst intubieren muss, ist ein einfaches System wichtig. Mir wurde o.g. Tubus dafür empfohlen, die Anwendung werde ich diesen Monat in...
-
Äußerst sinnvoll für die Bevorratung im Rettungsdienst, aber auch im Ärztlichen Notfalldienst sowie in der Notaufnahme und Intensivstation von Krankenhäusern. Zubehör wird mitgeliefert...