Article successfully added.
For BETA, K, and DELTA dermatoscope heads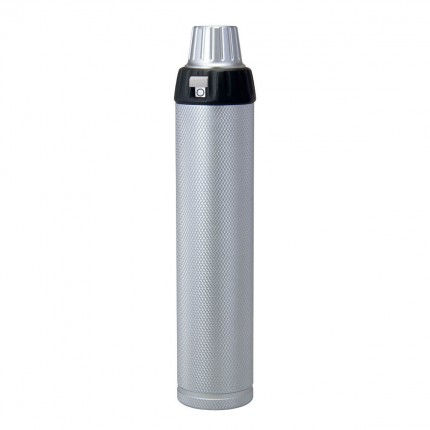 Article ID: 110765
Package: 1 piece(s)
Item in stock
The delivery will take place between the
30.09.2023
and
05.10.2023
HEINE BETA Handle from HEINE Optotechnik
Many handles, many options! The brand HEINE offers many different BETA handles with a wide range of use and combination options. You can choose between the different models: we have rechargeable handles, rechargeable handles with USB, and battery handles. Every general and specialist health professional will find something suitable for their personal use. All BETA instrument handles are made of low-maintenance metal and are therefore elegant and easy to clean.
Product details
All instrument handles are compatible with all BETA, K, AND DELTA instrument heads.
HEINE BETA battery handle
BETA battery handles use replaceable batteries, which makes them perfect for a more sporadic use. These diagnostic instruments can be used on the go and everywhere, all without needing any charging. Perfect for your emergency bags or home visits!
Use with 2,5V xenon light dermatoscope heads
Operation with disposable batteries (2x Baby C batteries needed)
Also available in handy SLIM version (2 x AA batteries required)
Ideally suited for use on-the-go and home visits
HEINE BETA4 NT rechargeable handle
These model with rechargeable batteries and NT ground unit are perfect for a more professional use. Place your BETA4 NT rechargeable handles in the charging socket at your workplace, and you will always have a diagnostic instrument ready to use! The Li-on battery can be charged with the NT table charger.
Use with 3,5V dermatoscope heads
Charging of Li-on rechargeable batteries with BETA4 NT table charger (not included in the delivery)
For frequent use
Also available in handy SLIM version (adapters needed for NT4 table charge)
HEINE BETA4 USB rechargeable handle
The BETA4 USB rechargeable handles are ideal for frequent and portable use in clinics and doctor's offices. The included rechargeable battery can be charged at any common USB port. The integrated separation module will protect both yourself and the handle from any possible defective outlets.
Unscrew the ground unit from the handle to operate the rechargeable handle. Loosen the separating foil between the battery and the ground unit by intermittently pulling if out. Do this strongly! Insert then the rechargeable battery according to the instructions.
Delivery contents
HEINE BETA battery handle for 2.5V heads
1 HEINE BETA battery handle
1 ground unit