Article successfully added.
HEINE Optotechnik HEINE rechargeable battery 3.5 V NiMH
For upgrading HEINE battery handles and rechargeable handles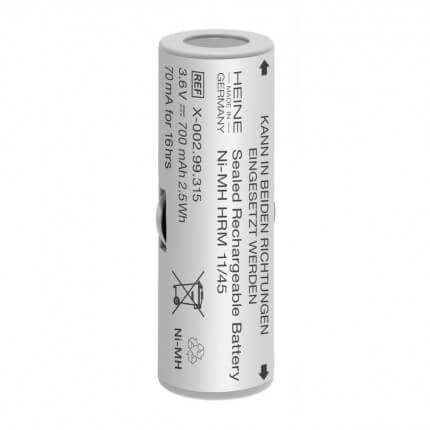 Article ID: 156626
Package: 1 piece(s)
Item in stock
The delivery will take place between the
30.09.2023
and
05.10.2023
HEINE rechargeable battery 3.5 V NiMH from HEINE Optotechnik
The HEINE rechargeable battery type NiMH 3.5 V is a high-power accumulator for rechargeable handles by HEINE. These rechargeable batteries can be attached to the standard instrument handles by HEINE and the handles of the BETA series in order to allow for a powerful performance of a variety of diagnostic instruments. The HEINE NiMH 3.5 V rechargeable batteries can be charged with HEINE NT 200 and NT 300 chargers.
Product details
Compatible with BETA NT rechargeable handle, BETA TR rechargeable handle, BETA R rechargeable handle, Standard F.O. laryngoscope handle, Standard F.O. LED laryngoscope handle, and F.O. angled handle
No memory effect, no overcharging
Output voltage: 3.6 V, 700 mAh
Downward compatible: all rechargeable batteries by HEINE can be charged with the predecessor chargers NT 200
Charging time: max. 4 hours in the HEINE NT 300 charger
Environmentally friendly
Please note: This battery is NOT compatible with BETA4 rechargeable handles, please select item 159837 BETA rechargeable battery for them
Package contents
1 HEINE rechargeable battery 3.5 V NiMH
Return policy
This item is not eligible for returns.

For consumers, the right of withdrawal does not apply to contracts for the delivery of sealed goods that are not suitable for return for reasons of health protection or hygiene if their seal has been removed after delivery.