Article successfully added.
Working magnifiers with high resolution | Incl. splash guard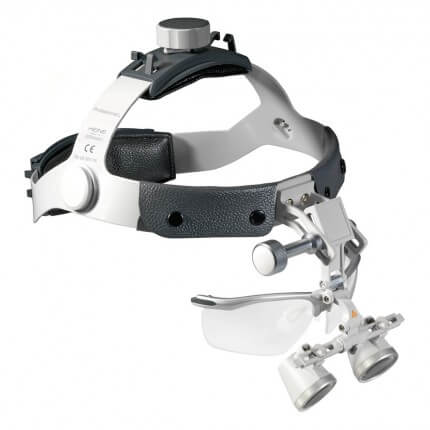 Order number: 102390.0
Package: 1 piece(s)
Delivery 18 to 21 days
You will receive your goods between the
25.04.2023
and
28.04.2023
HEINE HR 2.5 x High Resolution Binocular Loupe on Professional L Headband from HEINE Optotechnik
The HR magnifiers from HEINE in a set with the HEINE Professional L headband are particularly suitable for long working sessions. The high-quality optics of the HR loupes produce a sharp, high-resolution image with a large field of view. The homogeneous magnification and padded head strap prevent fatigue. The i-View loupe supports are individually adjustable and can be folded out of the field of view.
Product details
Set with HR High Resolution Binocular Loupes
With HEINE i-View loupe carrier on HEINE Professional L headband
High resolution and sharpness
Low loupe weight
Incl. protective loupe lenses
Magnification: 2.5 x
Available in various working distances and optionally with S-Guard safety glasses
Binocular loupes with large field of view
Thanks to multi-coated, achromatic optics , the image of HEINE High Resolution Binocular Loupes isvery sharp and homogeneous. Due to the 2.5x magnification, the field of view is large. The high depth of field provides a sharp image of the working field and the near background. The compact lightweight design enables fatigue-free work, for example in dermatology and dentistry. This is how the HEINE binocular loupes are properly adjusted:
HEINE i-View loupe carrier with flip-up function
The loupes are mounted on the pivoting HEINE i-View loupe carrier . The pupil distance and the tilt angle of the right and left eyepieces can be individually adjusted using adjustment joints. This produces a coaxial, shadow-free image.
With the flip-up swivel function of the magnifier carrier, the optics can be flipped up with one hand. This allows a quick change between overview orientation and detail view. Once adjusted, the loupe setting is not changed. Sterilizable swivel handles ensure appropriate hygiene during operations.
HEINE Professional L headband and S-Guard with splash protection lenses
Fully adjustable in height and width
Flexible band adapts to any head shape
Optimal for spectacle wearers with their own glasses
Comfortable leather pads
Plenty of freedom of movement
Also suitable for mounting an optional lighting unit
Protective plastic lenses incl. anti-reflective coating
Ergonomic nose pad, cold deformable by light pressure
Scope of delivery
1 pair of HEINE HR 2.5 x High Resolution Binocular Loupes (working distance 420 mm)
1 HEINE i-View loupe carrier
1 HEINE Professional L headband
1 HEINE S-Guard eye protection
2 protective glasses
2 sterilizable swivel levers
1 cleaning cloth