Article successfully added.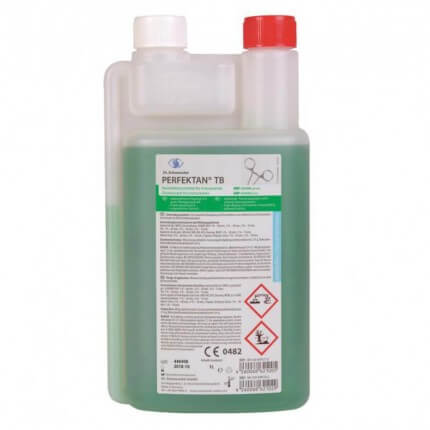 Item in stock
The delivery will take place between the
09.12.2023
and
13.12.2023
PERFEKTAN TB Instrument Disinfection from Dr. Schumacher
PERFEKTAN TB is a particularly economical, material-friendly, cleaning-active instrument disinfectant for daily use in the practice. Its excellent antimicrobial efficacy ensures a high level of personnel protection during instrument reprocessing. PERFEKTAN TB is characterized by a pleasant odor due to its aldehyde-free formulation and is suitable for use on medical instruments of all types.
Product details
Liquid instrument disinfectant
Good cleaning power
Good corrosion protection
Gentle on materials
Suitable for use in ultrasonic bath
Pleasant odor
Free of aldehyde and phenol
VAH/DGHM listed
Intended use
Agent for instrument disinfection
Scope of delivery
1 PERFEKTAN TB instrument disinfection à 1 liter
Pictogram:
Signal word:
Danger

Hazard warnings:
H314 – Causes severe skin burns and eye damage.
H410 – Very toxic to aquatic life with long lasting effects.

Safety instructions:
P273 – Avoid release to the environment.
P280 – Wear eye protection/face protection.
P301+P330+P331 – IF SWALLOWED: Rinse mouth. Do NOT induce vomiting.
P301+P330+P331 – IF SWALLOWED: Rinse mouth. Do NOT induce vomiting.
P303+P361+P353 – IF ON SKIN (or hair): Take off immediately all contaminated clothing. Rinse skin with water [or shower].
P303+P361+P353 – IF ON SKIN (or hair): Take off immediately all contaminated clothing. Rinse skin with water [or shower].
P305+P351+P338 – IF IN EYES: Rinse cautiously with water for several minutes. Remove contact lenses, if present and easy to do. Continue rinsing.
P305+P351+P338 – IF IN EYES: Rinse cautiously with water for several minutes. Remove contact lenses, if present and easy to do. Continue rinsing.
P310 – Immediately call a POISON CENTER/doctor.
P501 – Dispose of contents/container to …