Article successfully added.
Ecolab Sekusept powder classic disinfection
for the cleaning and disinfection of thermo-stable equipment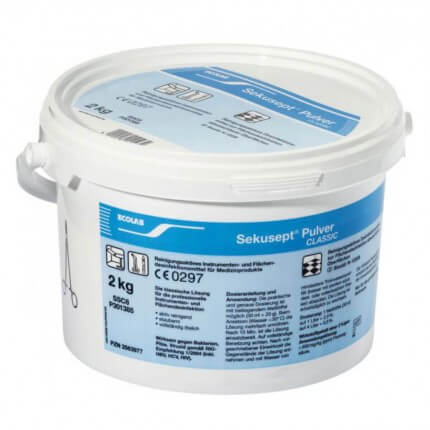 SKU: 187505
Package: 2 kg
Item in stock
The delivery will take place between the
09.12.2023
and
13.12.2023
Sekusept powder classic disinfection from Ecolab
Ecolab Sekusept Cleaner Powder Classic is a disinfectant concentrate for cleaning and disinfecting thermostable instruments and surfaces. The high effectiveness of Sekusept Cleaner Powder Classic in cleaning and disinfection guarantees maximum safety in the reprocessing of medical instruments and surface disinfection.
ready for use in 15 min
Spectrum of activity: bactericidal (incl. TBC), limited virucidal (HBV/HIV), fungicidal
very economical
incl. measuring spoon
Areas of application
The cleaning agent in powder form is used for the cleaning disinfection of medical instruments made of metal, plastic, elastomers, glass, etc. and guarantees very good material compatibility. It can also be used for disinfecting prostheses (dental), incubators and tubs for medical baths. The disinfectant concentrate is also suitable for surface disinfection. However, it is not suitable for manual cleaning and disinfection of flexible endoscopes and instruments made of aluminum or with nickel-plated surfaces.
The spectrum of activity includes bacteria and fungi as well as, to a limited extent, viruses such as HBV and HIV.
Instructions for use
When preparing the solution, sprinkle powder into water and stir several times. For 2 liters of 1% solution you need e.g. only 20 g powder (25 ml). For more detailed dosage instructions, please refer to the product packaging or the manufacturer's website. After 15 minutes, the solution is ready for use as a liquid disinfectant and has a very good cleaning performance. Immediately after use, the instruments should be placed in the Sekusept Classic powder solution so that the active ingredient can work optimally. Make sure that the instruments are completely wetted. After the prescribed exposure time, remove the instruments from the solution and rinse with water of at least drinking water quality, or better sterile distilled water. The solution must be changed every working day.
Avoid contact with the skin!
Intended use
Agent for instrument disinfection
Scope of delivery
1 bucket of Ecolab Sekusept Powder Classic in the selected size (2 kg / 10 kg)
| | |
| --- | --- |
| Pictogram: | |
| Signal word: | Warning |
| Hazard warnings: | H319 – Causes serious eye irritation. |
| Safety instructions: | P280 – Wear eye protection/face protection. |